there are some things you can do to--dare I say it--disconnect
there are some things you can do to–dare I say it–disconnect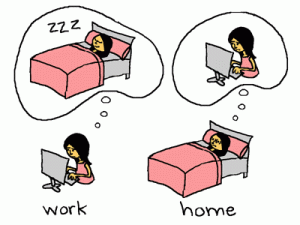 Do you check work emails when you're having dinner with friends? Do you have so many smartphones you can't remember to check them all? Do you start working on reports at 3am? You may be addicted to work. There's no real cure for it, and thankfully, there's no prescription to help you with it either (not yet anyway), but there are some things you can do to–dare I say it?–disconnect.
You're probably thinking, "are you crazy?". I assure you, I'm not. You don't have to disconnect from everything all the time, just take a break. I know this is easier said than done. I promised myself I would get up and walk around once an hour. I haven't done that in 2 months. When I do get up and walk around, I'm proud of myself, which is a pretty pathetic accomplishment. So if you're like me, and the millions of other people out there who need a break during the day but can't remember to take one, check out these tips, and if they don't work, you can at least applaud yourself for trying.
Do you have any tips on how to disconnect/take a break?