Once the home of J.B. King's Windsor Plaster Mills, a United States Gypsum Corp. plant, Atlantic Salt, Inc. made Staten Island its home in 1976 and opened their Richmond Terrace facility. The family-owned Eastern Salt Co., headquartered in Lowell, MA, has its Atlantic Salt branch on 10 acres, which have, in my opinion, some of the most unique waterfront views on the north shore.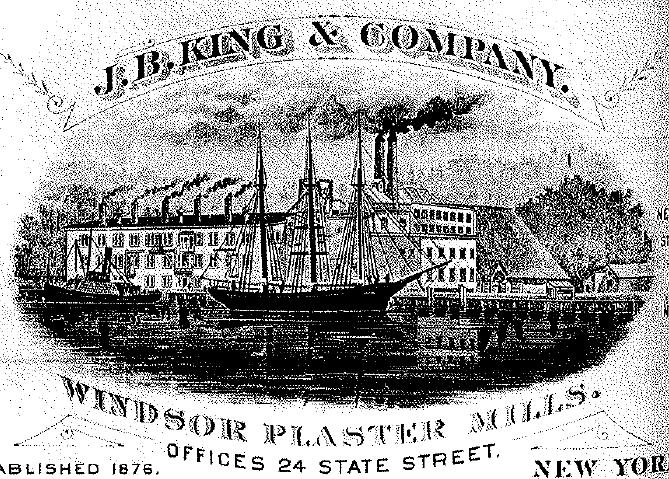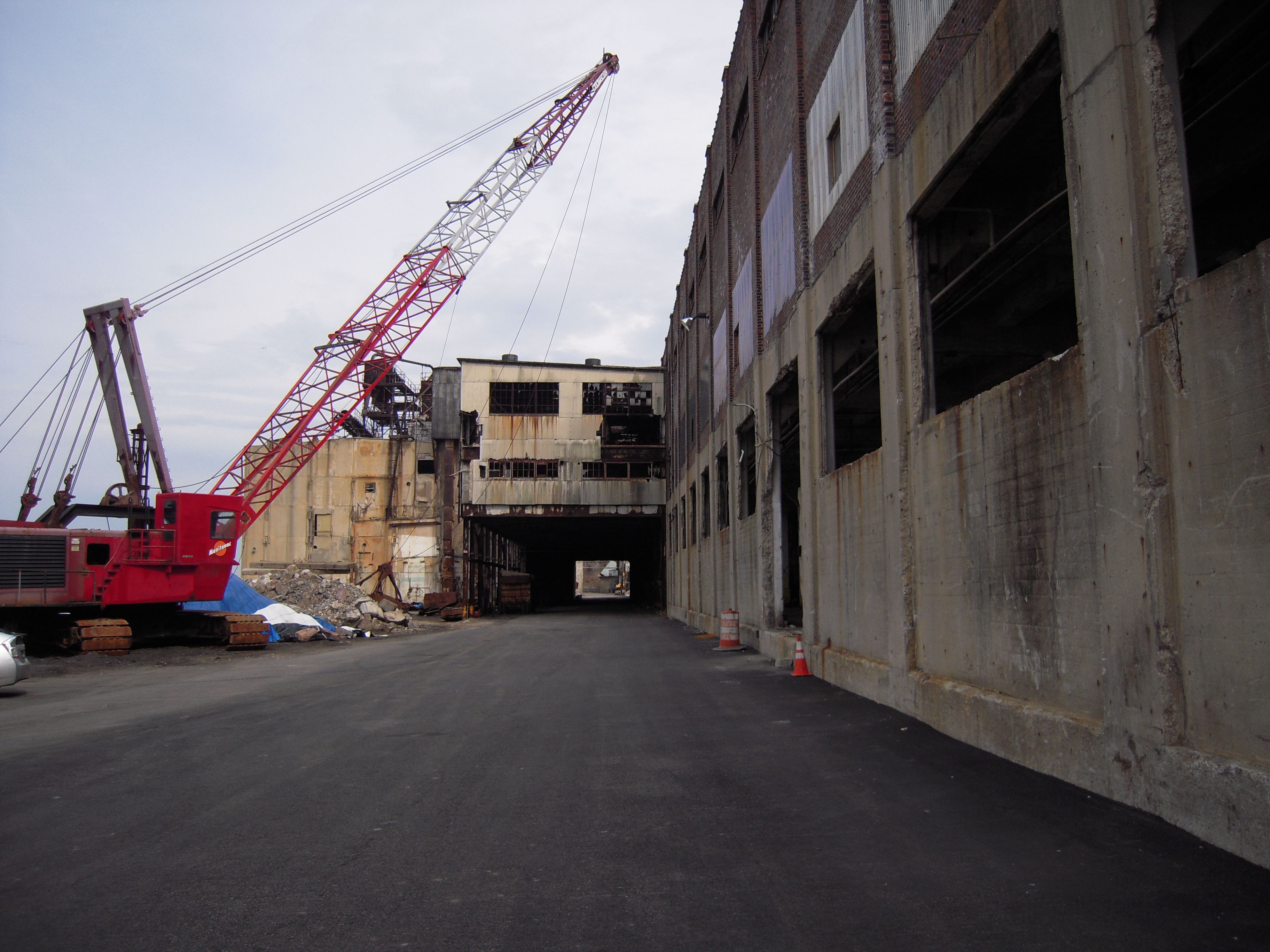 (Top) Detail from J.B. King's Windsor Plaster Mills Letterhead. Image courtesy of Made on Staten Island by Charles Sachs, 1988.
(Bottom) Image of Atlantic Salt deck.

My morning commute brings me past the site, whose activity changes with the season. Huge boats spew salt, trucks slide down the side of the mounds, all moving parts working to rearrange ton upon ton of particles. When they are not providing road salt for public safety winter de-icing to public works departments and institutions of NYC, New York State, and parts of New Jersey and Connecticut, they can be found organizing the Maritime Festival, your bi-annual community festival, or supporting a number of other community events.

Staten Island Arts has partnered with Atlantic Salt to bring light to art within the community. In 2009, "The Waterpod" docked at Atlantic Salt and Staten Island Arts threw a welcome party for it. "The Waterpod" was a cross-disciplinary, community-based, public art project that visited the five boroughs at eight different piers. It was designed as a futuristic habitat and an experimental platform for assessing the design and efficacy of autonomous marine living systems in preparation for an assumed future. A multinational team including artists, designers, marine engineers, and civic activists led by the artist Mary Mattingly alongside the New York City Office of the Mayor Special Projects, the United States Coast Guard, and the New York City SBS Dockmaster Unit.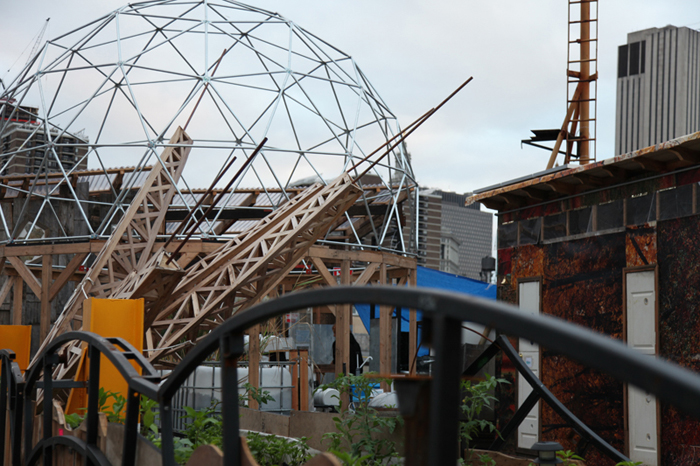 The Waterpod docked at Atlantic Salt, 2009.

Staten Island Arts' relationship with Atlantic Salt continued in the planning and execution of the LUMEN Festival (in its inaugural year in 2010 and again in 2012), at their waterfront industrial warehouse and dock. In 2012, 3000 people attended the event, up from 800 in 2010. In 2011, Staten Island Arts also participated in Atlantic Salt's Maritime Festival and invited thematically appropriate local musicians, including the Wahoo Skiffle Crazies, Captain Ahab and the Sea Crackens, and Bob Wright and Harbortown, to perform at the site.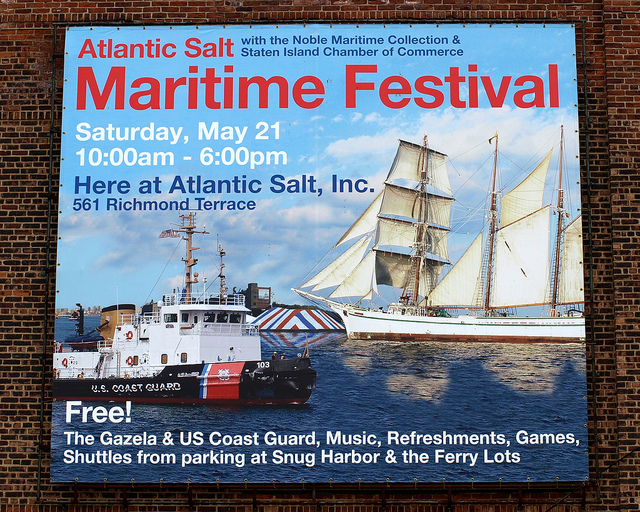 The more we worked as partners with them, we came to learn that Atlantic Salt, Inc. is more than a venue.

They provide tremendous in-kind support, network services with other businesses in the area, and are enthusiastic, creative partners that integrate art into their working waterfront facility. For example, they moved approximately 50,000 tons of salt around the site to create a fantastical art-wonderland for our video art festival.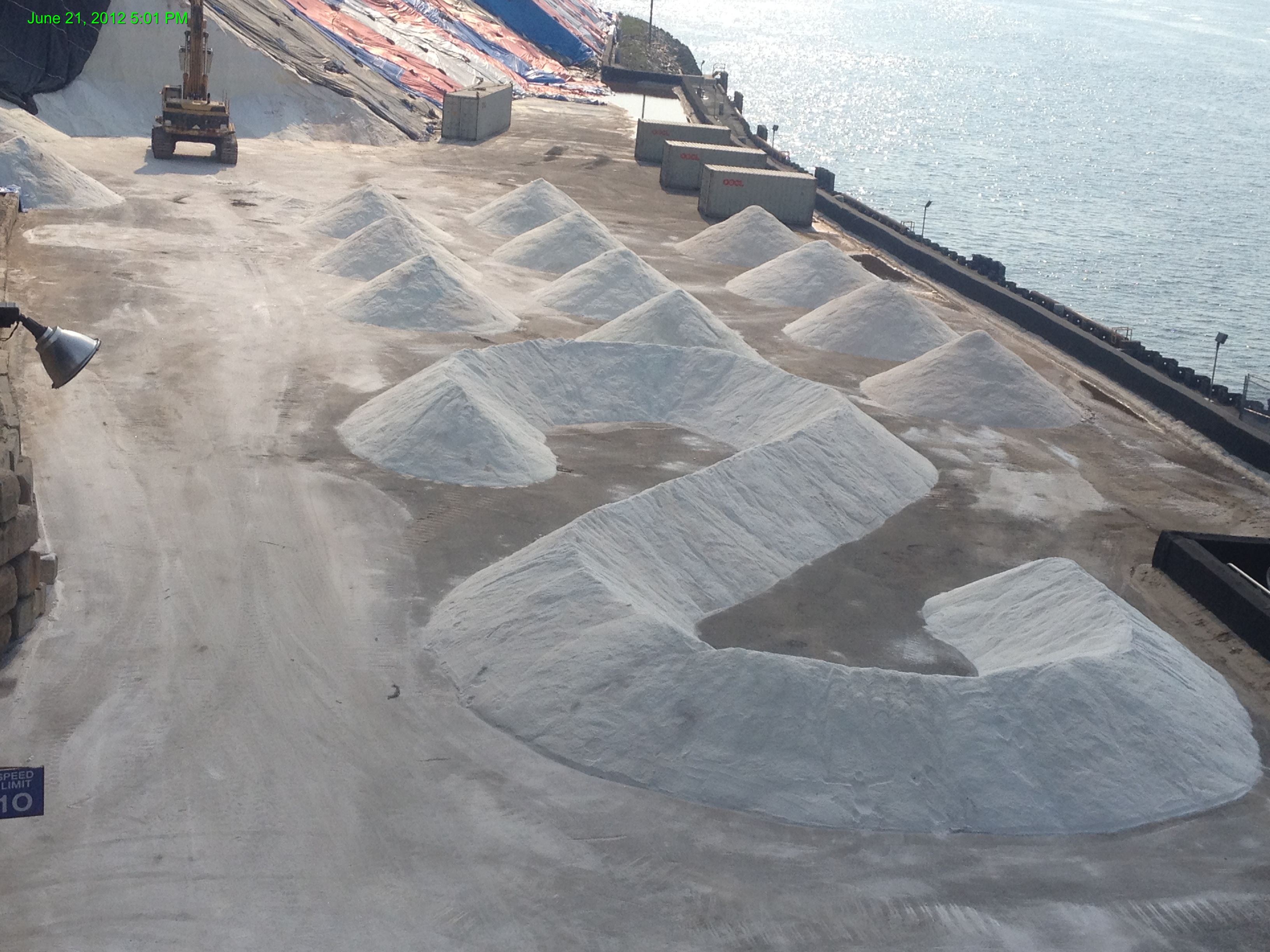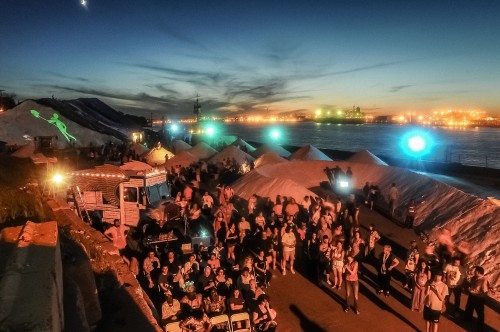 (Top)Image courtesy of Brian DeForrest.
(Bottom)Image courtesy of Mike Shane Photography.

Unparalleled hospitality is exemplified by the company's owners, Leo and Shelagh Mahoney, who provide refreshments (everything from watermelon to hotdogs) free of charge to their event guests.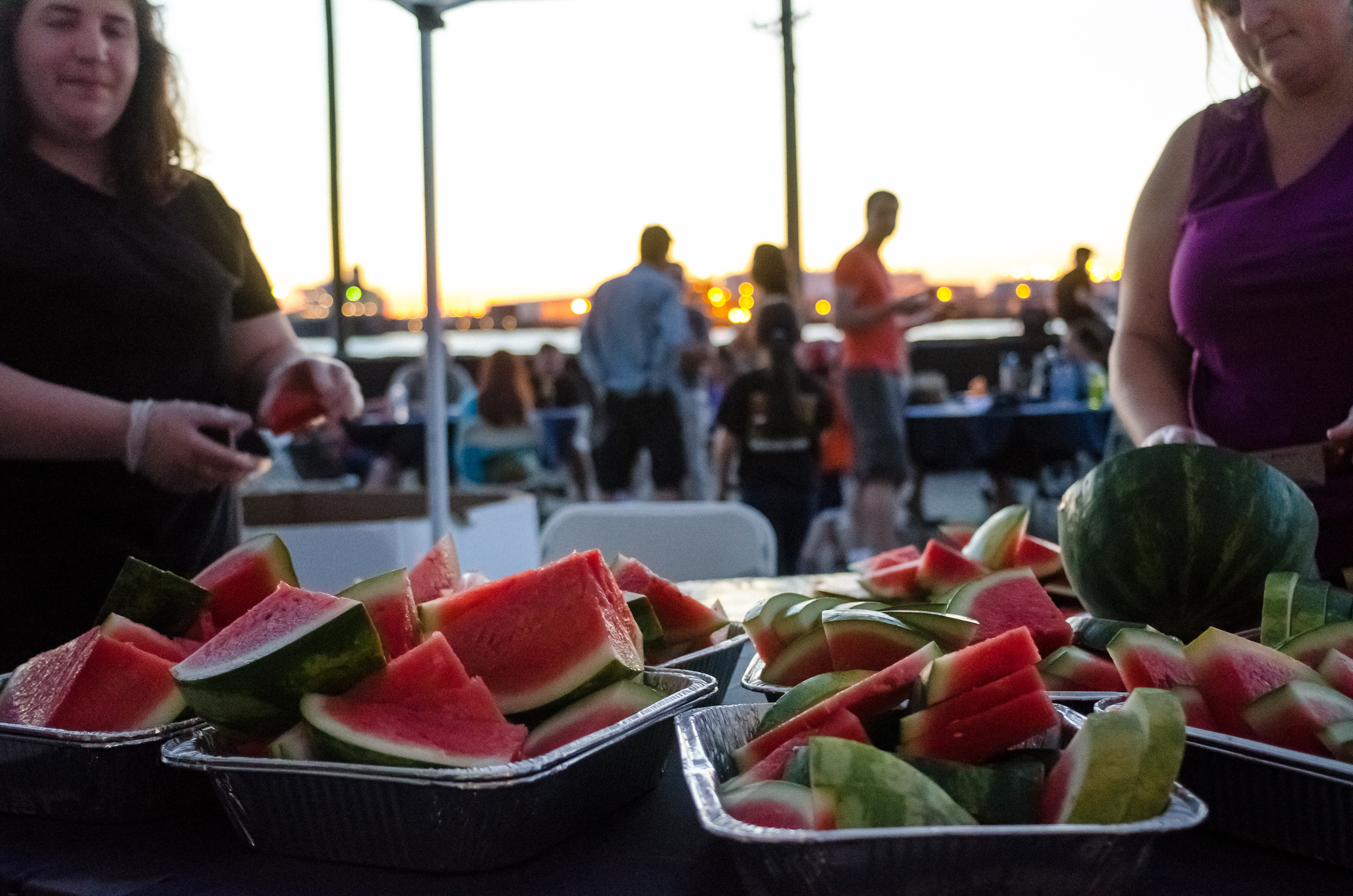 Image courtesy of Mike Shane Photography.

One of the Atlantic Salt employees shared, "We are constantly surprised by what artists or groups propose to do on our site and we are excited to discover what is possible."

Atlantic Salt, Inc. are true collaborators who help make art HAPPEN on Staten Island.

Atlantic Salt Inc.'s commitment to the local community extends beyond Staten Island Arts; they have collaborated with many, including the Noble Maritime Museum, the Guggenheim Museum, local and international filmmakers, and a variety of other independent artists. And through their Maritime Festival, they have helped created stronger bonds between local businesses and the cultural community through a partnership with the Staten Island Chamber of Commerce.

Every year, Americans for the Arts, through the Business Committee for the Arts, recognizes ten U.S. companies for their exceptional commitment to the arts through grants, local partnerships, volunteer programs, matching gifts, sponsorships and board membership.

Staten Island Arts is proud to share the news and their love for Atlantic Salt, Inc. as they are honored amongst the 2013 BCA 10 Honorees:

Aspen Skiing Company, Aspen, CO
Atlantic Salt, Inc. Staten Island, NY
Bacardi USA, Inc., Coral Gables, FL
M & T Bank, Buffalo, NY
Microsoft, Redmond, WA
PNC Bank, Pittsburgh, PA
Premier Bank, Dubuque, IA
Scholastic Inc., New York, NY
Turner Broadcasting System, Inc., Atlanta GA
Yum! Brands Inc., Louisville, KY

"This year's BCA honorees recognize the value that the arts hold in workplaces, communities, and local economies. They are shining examples of how partnering with the arts can enrich the communities in which people live and work as well as cultural organizations, office cultures, and business performance," said Robert Lynch, President and CEO of Americans for the Arts. "Through their forward-thinking partnerships, community engagement and financial and in-kind support, these businesses are ensuring access to the arts for people across the country for years to come."

Leadership Award
Michael McCallister, Chairman, Humana, Inc., Louisville, KY

Hall of Fame
Northwestern Mutual, Milwaukee, WI

For more information, including how you can join us for the event, purchase a recognition ad and sponsorship opportunities, visit www.AmericansForTheArts.org/BCA.