Check out what happened at October's Art Intersects Meetup!
On October 14th, Staten Island Arts' Culture Lounge hosted October's Art Intersects Meetup!

Inspired by the community that formed around Staten Island Arts' Art Intersects workshop series, this meetup group (established in Jan 2014) seeks to create a space for individual artists, creative businesses, collectives or nonprofit groups to develop independent initiatives, share resources, and deepen professional relationships.

It also serves as an open forum for discussion about interest, opportunities, and upcoming events the Culture Lounge Artist Market.

After a brief intro and welcome, Staten Island Arts' Monica Valenzuela shared a few updates addressing the Artist Market and Culture Lounge. It included some old business and some new business:

·Old Business: Staten Island Arts' Artist Registry is undergoing some updates and we are seeking the most efficient way to update it based on the community's needs. We are exploring potential solutions, which would allow artists and collectives to create individual "profiles" with featuring images from their portfolio, link back to individual websites. Potential low-cost solutions to explore: MassMosaic, Rawartists.org, Membee… Will be inviting a rep from MassMosaic to future meetup to discuss future prototype. Also inquired about how the Chamber produces their directory and would love to explore a space for artists in that directory in an effort to incubate local entrepreneur synergy between arts and business community.

·New Business: #FeedbackFriday happened (report to be published tomorrow!) and<

·New Business: Holiday Merchandise NEEDED! Ornaments, Christmas Cards, Stocking stuffers (merch $10-30) Send us prototypes immediately, need merch by 2nd week of Nov

Following updates, participants shared a little bit about their work (in market or otherwise) and shared a few business challenges. Here are some things that came up…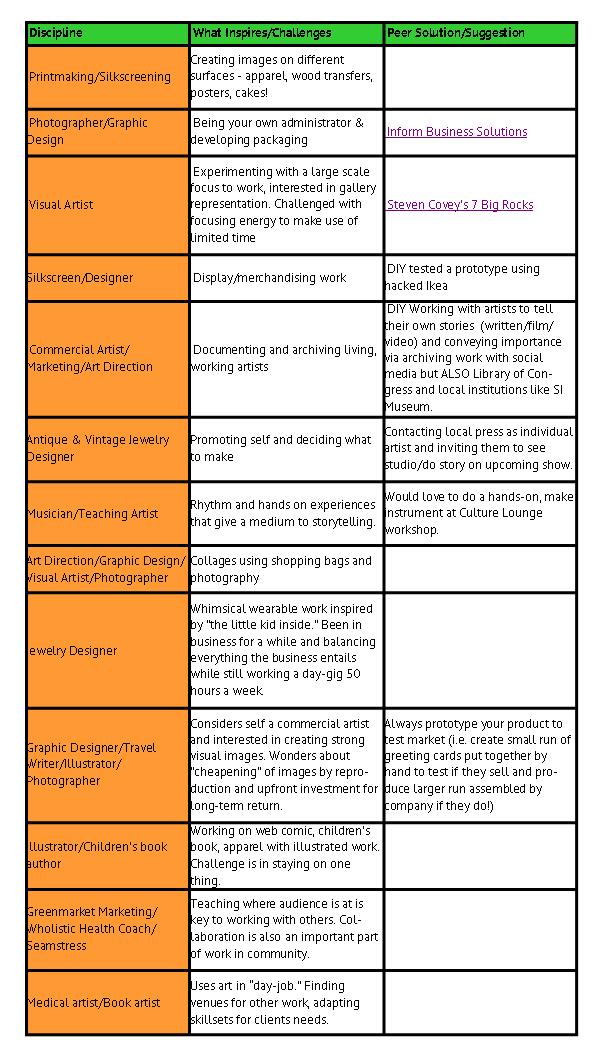 Consider joining us for the next Meetup on November 11th!

This meetup group is envisioned as a space for artists/groups that are:

1. Currently participating in the Culture Lounge Artist Market,
2. Interested in participating in the market, and looking for feedback and peer support, and/or
3. Looking to deepen their business practices.
Meet some of the artists who will be presenting at this year's LUMEN Festival!
Making use of Staten Island's under-utilized waterfront and returning to the site that launched its first iteration, LUMEN, will feature video installations, new media projections, animation, performance art, art interventions, and sound art, curated by David C. Terry & Esther Neff.

This week we'll be highlighting some of the artists who will be heading back to the salt mines for LUMEN 2014!

Amanda Long
Amanda Long is a New York City based artist specializing video projection. Her work makes the audience become the piece of art they are viewing. By using projections, lighting, and props, spectators of all ages can participate and is meant to evoke a sense of power within the viewer over how they are viewed on camera. Recently she has dabbled in film sculpture, drawing on proto-cinema devices, yet once again encouraging audience participation. She is experimenting with the concept that a film's flickering light and color can alter consciousness and using the filmstrip as a physical loop, and the film as a sculptural object. Come see Long's interactive video, "Phenakistoscope Live" at LUMEN 2014.

Chloe Bass
Brooklyn, New York is the home base of artist Chloe Bass, but she is no stranger to Staten Island Arts' LUMEN Festival. Graduating from Yale University in 2006, and going on to earn an MFA in Performance & Interactive Media from CUNY Brooklyn, Bass's work focuses primarily on performances, installations, and situations. Her inspiration lies in everyday life, and highlights its normalcy before questioning the stability that normalcy. She does not want her work to be separate from her viewers, instead urging her audience to question the alienation that we create between artist and audience without even realizing it. Bass's work will be featured at LUMEN 2014.

Florence Poulain
Born and raised in Anjou, France, Florence Poulain studied music and got her masters in Cinema Studies at the City University of New York. She worked in film and video industry for 15 years, she started making photographs of the NY Underground Performance Scene and dancing Butoh, Japanese born dance. Presently Poulain co-runs "Deep Tanks Studio," a combination photography studio, art gallery and performance venue in St. George/Tompkinsville. Poulain was the recipient of the 2014 Excellence in the Arts Award and will be performing "Moth Ball – A Nocturnal Butoh Offering" as part of the LUMEN Festival this year, alongside dancers Melisande Echanique, Annette Mae, Ann Marie Akash, Lys Riganti, Bob Lyness, Michael Stipkala, Esperanza Santiago and Shinjier Yang. Live guitar and music by Vegas Berlin and Malarts. The performance fuses movements of Moths and Butoh dancers, what Poulain calls "Hu-moths".

Lisa Crafts
Lisa Crafts is a New York City based animator. Her independent animated films range in topic from the tenacity of the human spirit, to the interesting realm of human sexuality. Her work has been shown internationally and she has recieved grants and fellowships from numerous associations and institutes throughout the country. She also paints psychological depictions of the American roadside landscape, and has shown these paintings in the La Luz de Jesus Gallery in L.A and the Cavin-Morris Gallery in New York City. Crafts will be showing one of her surreal videos at LUMEN 2014.
Meet some of the artists who will be presenting at this year's LUMEN Festival!
Making use of Staten Island's under-utilized waterfront and returning to the site that launched its first iteration, LUMEN, will feature video installations, new media projections, animation, performance art, art interventions, and sound art, curated by David C. Terry & Esther Neff.

This week we'll be highlighting some of the artists who will be heading back to the salt mines for LUMEN 2014!

Divya Gadangi
Divya Gadangi is an SI-based artist whose multimedia work utilizes a variety of techniques including drawing, digital, photography, installation pieces, and much more. Gadangi was the recipient of the 2014 Excellence in the Arts Award from Staten Island Arts. For LUMEN 2014 Gadangi will be showing a video project entitled "Medical Spaces". The video is non-linear and has been randomly sliced and rearranged, making each viewing of the film different from the last, creating an interesting and compelling viewing experience.

Scott Van-Campen
Scott Van-Campen is a Staten Island Artist that has been in the metalwork and fabrication business for over 18 years. His company New York Custom Fabricators specializes in both corporate and residential work, and he recently expanded his Stapleton workshop to co-found Staten Island Makerspace with his wife and fellow SI-artist DB Lampman in October 2013. Following his interactive Cicada installation at LUMEN 2013, Van-Campen will engineer a giant hanging pendulum from metal and machinery from Atlantic Salt at LUMEN 2014.

Yorgo Alexopoulos
After helping to establish the southern California graffiti movement with the WCA, Yorgo Alexpoulos attended the School of the Art Institute of Chicago before finally settling in New York City. Alexopoulos fuses his drawings photographs, paintings, films, and drawings with animations and sound, thus creating a style that is uniquely his own. His work is described as "immersive fine art" and touch upon transcendental themes. He has shown his work all over the country as well as in Canada. For LUMEN 2014, Alexopoulos' work will be featured on a 80' span of an industrial building façade at the Atlantic Salt Company.

Kristopher Johnson
Kristopher Johnson is a Staten Island born and raised photographer. A graduate of Curtis High School, Johnson has gone on to open and co-own his own photography studio on Staten Island. Named, "Deep Tanks Studio" Johnson's studio functions not only as a photography studio, but also as an art gallery and performance venue. Johnson does beautiful portraiture, amazing beauty shots, as well as stunning fine art. On June 28th, at LUMEN 2014, Johnson will be taking photographs of LUMEN Artists and attendees to show archetypes of artists.

Like LUMEN on Facebook
Meet some of the artists who will be presenting at this year's LUMEN Festival!
Making use of Staten Island's under-utilized waterfront and returning to the site that launched its first iteration, LUMEN, will feature video installations, new media projections, animation, performance art, art interventions, and sound art, curated by David C. Terry & Esther Neff.
This week we'll be highlighting some of the artists who will be heading back to the salt mines for LUMEN 2014!

Robin George & Willie Chu
George/Chu Media is an established, full service visual arts company located in Staten Island, NY. Comprised of artists Robin George and Willie Chu, George/Chu Media specializes in photography and videography, covering everything from corporate events and portraits to documentaries and commercials. Additionally, they designate time for personal creative projects, both independently and as a team. They have shown work in both solo and group exhibitions on Staten Island and wider NYC, including such venues as BWAC, The Photo District Gallery, Kevin Barry Gallery, Packwood House Museum, PA, Staten Island Museum, Union and Spotlight Galleries at Wagner College, and New Century Artists. They are also members of the Creative Photographers Guild. George/Chu Media's new project, entitled "The In-Between" will be featured at LUMEN 2014.

Geraldo Mercado
Based in Brooklyn, Geraldo Mercado is a performance artist who uses body based art, experimental video art, mobile instillations, conceptual websites, and both analog and computer based images to physically push the body past its limits. Meant to be reflective, Mercado wants audiences to reflect on their own bodies as they see his breaking down. During the LUMEN Arts Festival, on June 28th, Mercado will explore this concept by attempting to create a full metamorphosis in shedding a technological suit of armor.

Izzi Ramkissoon
An award-winning electro acoustic multimedia composer, performer, and sound artist, Izzi Ramkisson is an SI-based musician and a graduate from the College of Staten Island and NYU. His compositions deal extensively with the use of technology in composition and have been featured at SEAMUS, NYCEMF, NIME, SPARK, LUMEN, Look and Listen Festival, Black Maria Film + Video Festival, World Maker Faire, MATA and numerous other venues and festivals, both nationally and internationally. He has written works for films, theater, installations, alternative controllers, and interactive media, and he has been featured at many festivals both nationally and internationally. He currently serves on the Executive Committee on the New York City Electro-acoustic Music Festival, works as an Adjunct Lecturer at CSI and Bloomfield College, and guest lectures at universities across the United States. Returning to the festival this year, Ramkissoon's music can be experienced live at LUMEN 2014.

Hiroshi Shafer
Hiroshi Shafer was born in Tokyo, and now is based in Brooklyn. Shafer became a kindergarten art teacher seven years ago, where he garnered a great deal of inspiration for his work. His main media are video and performance art. His work has been shown both nationally and internationally in countries such as South Korea, Tokyo and the Czech Republic. Shafer will be directing a performance piece at LUMEN 2014, and will explore ideas of childhood memories.
'Going Up?' has been nominated for three awards at the St. Tropez International Film Festival
"Everyone has a story to tell because we've all been in those moments and puppets allow us to find the humor in awkward environments," notes Dana Morgan, film producer and St. George resident.
Morgan is talking about "GOING UP?," a comedic TV series based on funny situations in elevators with a twist–puppets who interact with human characters.
The short film series "GOING UP?," is an official selection of the St. Tropez International Film Festival (France), and has captured three nominations, including Best Short Film, Best Director (Dana Morgan) and Best Hair and Make Up (Kelsey Olafson).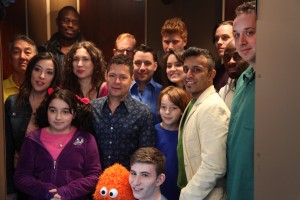 The concept of "GOING UP?" was based on the personal experiences of Morgan, and she decided to use puppets to assist the comedic flow of each episode.
The form of puppetry, based on Jim Henson's style of The Muppets, facilitated and molded an environment allowing the slight contrast between fiction and reality. The reason Morgan chose puppetry was because she felt it is an honest way of exposing emotions people feel but are too scared to express.
"The improvisational based script brings vibrant scenarios to life, and our actors and puppeteers were selected based on strong improvisational skills and professional training in order to assemble everyday situations into an energetic masterpiece," explains Morgan.
When Morgan approached local Staten Island producer Cara S. Liander, Liander knew there was so much potential to the project. The whole project needed careful pre-production planning in order to make this puppet series a reality.
"First thing was first," Liander says, "we needed to build our own elevator so we could capture all those intricate, awkward and silly moments we experience when those doors close."
With a couple of trips to the hardware store, a few phone calls and some innovative design decisions, the elevator was built in Morgan's mother's Stapleton backyard on Pearl Street.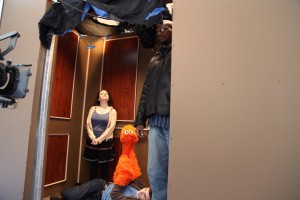 "GOING UP?" has already won several awards in the film festival circuit including the 2013 Platinum Reel Award at the Nevada Film Festival, the award winner of merit at the Indie Film Fest, and the award of merit at the Best Shorts Film Festival.
Dana Morgan is an actress and puppeteer, who recently performed as the additional robot in "Robot & Frank," starring Frank Langella and Susan Sarandon. Her extensive background has given her opportunities to work on over 15 movie productions as cast and crew to study puppets and acting from behind the scenes. She has also been seen in "For our Daughters" (IlluminArt Productions), which was critically acclaimed. She previously directed "Just a Reading," a play within a play about a play! Aside from acting, producing and directing, Dana is a widely known puppeteer and puppet builder throughout NYC. Her inspiration started while working on "The Muppets; A Christmas Special: Letters to Santa" (2008). More recently, she assisted in building puppets and props for the hit Broadway show, "The Addams Family" and the Off-Broadway production, "Arias with a Twist." In addition to puppet building, she has performed and directed her own puppet creation performances with the prestigious Sinking Ship Production Company associated with The Tank Theater's "Puppet Playlist." Her ultimate dream is to create all types of stage, film and multimedia projects that all ages can enjoy.
Cara S. Liander is a graduate of Boston University's College of Fine Arts with a BFA in Acting. She portrayed roles in Boston University productions of History of the American Film (Eve), Electra (Ensemble) and Prelude to a Kiss (Aunt Dorothy). More recently, she performed the role of Sgt. Marti Ribeiro in the NY Times critically acclaimed The Lonely Soldier (Women at War), strutted as Connie Anderson in the hit musical Betty & The Belrays, slap-sticked as Maurice in "M" Word, and crooned as Nan in My Boyfriend is a Zombie. While not on the stage, Miss Liander dabbles in comedic shorts with The Tenderloins NYC (Now, the Impractical Jokers), and featured shorts with ROAM Pictures, her production company. She most recently starred in "The Puppet Apocalypse," a one-woman version of "Hansel & Grethel," and "A Route Less Traveled" starring Justin Guarini.
For further information and to view the cast and crew, please visit www.goinguptheseries.com
Will Your Arts Organization Be Compliant with NYS Law beginning July 1, 2014?
Last year, New York State enacted the Nonprofit Revitalization Act. What does this mean for your arts nonprofit? It means you might need to make some changes to your bylaws and policies by July 1, 2014 in order to remain compliant with New York State Not-for-Profit Corporation Law. The best way to make sure your organization is compliant, is to review your by-laws and policies with a lawyer. Below is a short list of key reforms, as noted by NYCON in a recent webinar. They will be having an upcoming webinar entitled "Part 1: New York Nonprofit Revitalization Act Part- Steps To Compliance – An Overview" that reviews all these changes in more detail.

Keep reading →
(13 of 13) Staten Island Arts is on the move and can't wait to invite you to the Culture Lounge, its new offices at the St. George Ferry Terminal in 2014!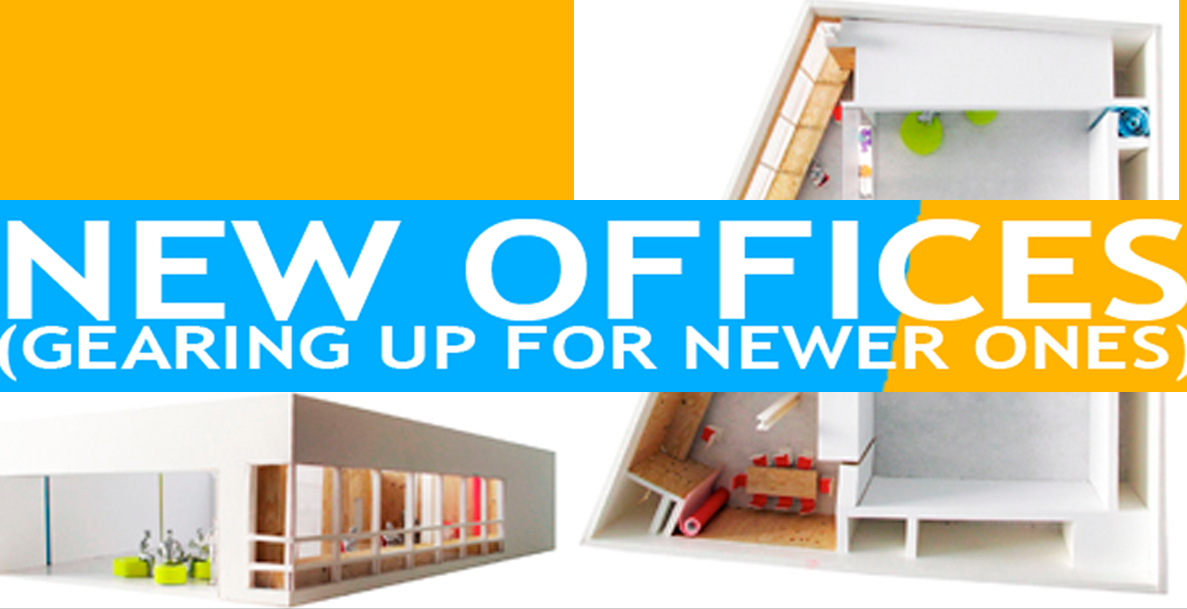 On September 13th, Staten Island Arts uprooted its offices in Building G (where they had been since 1994) and transplanted into a new temporary, interim location in the basement of Building P, located behind the SI Children's Museum and by the Snug Harbor Heritage Farm.
We are getting pretty cozy in our new offices, which brought us friendly, new neighbors (Hello Snug Harbor Cultural Center administrative offices and NYC Composting Project!), but they are only a pitstop on our journey to the Culture Lounge, our new offices and art space scheduled to open at the St. George Ferry Terminal in 2014.

Keep reading →
(12 of 13) Students learn about traditional cultures and each other through music and dance.
It's less about what individuals learn and more about how they learn it.
K-5th grade Students at P.S. 20 deepened their relationships with each other and new art forms through traditional cultural expressions from Ireland and Liberia this May during Music & Dance with Tradition Bearers.

Keep reading →
(11 of 13) The (re)birth and re-brand of Staten Island Arts.

As of May 1, 2013 — "May Day," a traditional time to celebrate renewal and rebirth—Staten Island Arts has a new name and a new look.

Keep reading →
(10 of 13) Staten Island Arts staff are your personal sounding boards.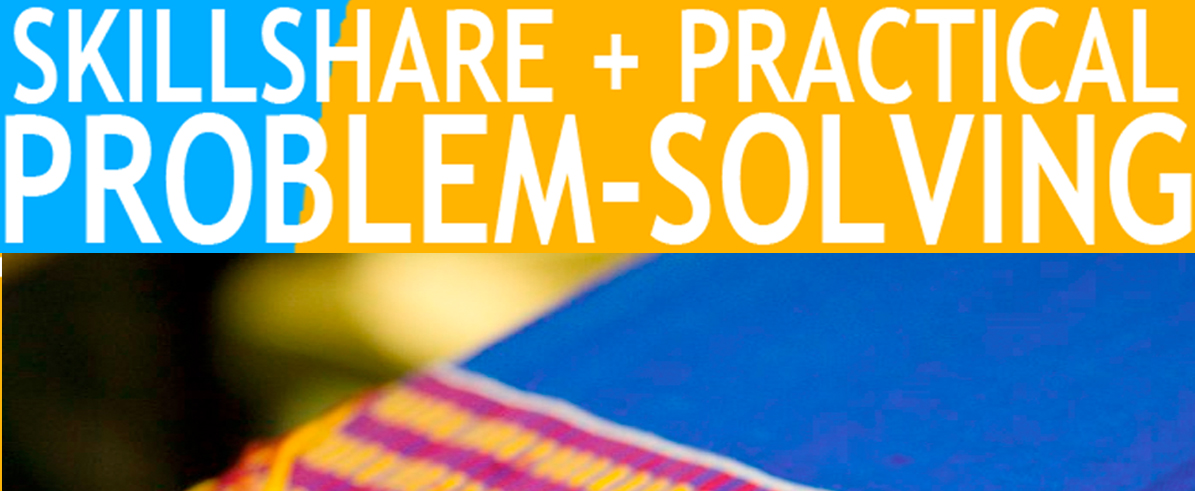 Part of Staten Island Arts' mission is to provide artists, collectives, community-led groups, nonprofit organizations, and arts educators the technical, financial and social resources to encourage cultural production.

In addition to year-round specialized training sessions and workshop series (which cover topics such as business planning, marketing, digital development, and grantwriting), Staten Island Arts staff offers

Keep reading →