Sarah Durham leads you through the basic concepts of brandraising
Sarah Durham leads you through the basic concepts of brandraising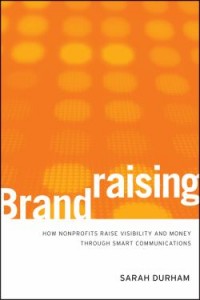 "Brandraising" is the name that communication group Big Duck came up with to describe the holistic approach they take when working on branding with nonprofits, and this book is a great review of their approach. The book is good, but you want to know what is better? Making the trip to Big Duck's Brooklyn offices for one of their coffee and bagel workshops and learning from Sarah Durham first hand.
Big Duck's offices are a testament to their commitment to brandraising at every level of an organization. When you walk in the door, you notice the bright colors of the walls (within their brand pallette), a duck magazine offers a humorous touch to their waiting area, and the walls of the workroom are whiteboard–where workshop attendees are encouraged to brainstorm, interact, and share their own brand experiences. On the experiential branding level, the Big Duck offices deliver the experience of what their brand is all about.
And that's what they show you how to do, through the book and workshops. Sarah Durham leads you through the basic concepts of brandraising so that a nonprofits communications plan clearly aligns and communicates its mission. The book is a great follow-thru to the workshops, or a good introduction before you go. It works you through the basics. But with Brooklyn so close, I recommend going to the workshops and getting the training and energy that comes from face-to-face training.