Events
Need an artistic home for your show or a location for your film screening or concert series? Your local arts council can help!

Apply today to be part of SI Arts' new Community Producers Program which will be run out of ArtSpace, our home on the Stapleton waterfront.

The Community Producers residency is intended for Staten Island-based artists and organizations who seek not just a rental program but a partnership. Through the program, local artists, collectives and organizations can apply for residencies through which the project space at ArtSpace is made available at affordable rental rates and with varying levels of technical and marketing support from the Staten Island Arts staff. Residencies may last from 4-12 weeks.

This residency is considered a partnership between Staten Island Arts and local community producers. Staten Island Arts offers 4 or 5 hour packages to producers for use of ArtSpace and all technical needs during their production.
4 hour package = $170.00
5 hour package = $210.00

Applications are accepted on a rolling basis and reviewed quarterly by the Staten Island Arts programming team. Incomplete applications might not be reviewed. Next deadline is: February 1, 2018.

Click here for Eligibility, Partnership, and Application information>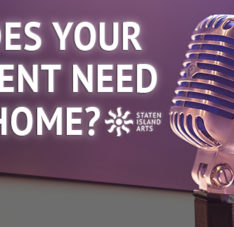 Monday December 18
2pm – 4pm
TUNE IN @ www.makerparkradio.nyc

On this special holiday episode of Creative Endeavors we'll be playing some Winter holiday favorites mixed with new holiday originals and some wintery-themed tunes mixed in for good measure.
All music brought to you by Staten Islanders!

Joining us in the studio will be IATSE Local 1 Stagehand Steven Goffin – a professional sound engineer, carpenter, and stagehand – fresh off his run of The Christmas Show at The St. George Theater.

Gena and Steve will reminisce about how they met and started working together, how Steve was once elected to be the Mayor of the North Shore, and all the fun that's happened in between.