Events
September 14 – December 9, 2017

Organized by Staten Island Arts, Design Trust for Public Space, and the Design Trust Fellows

Staten Island's North Shore waterfront, home to hundreds of artists and arts organizations, is rapidly developing. In the midst of this change, the Future Culture project aims to shape and communicate a vision for culture that supports and promotes the area's unique cultural communities, develops art and cultural initiatives, and strengthens the relationship between the cultural sector and owners and stewards of property. The project was proposed by Staten Island Arts through the Design Trust for Public Space's 2014 open call, and selected by an independent jury. A team of Fellows, working with local residents, artists, civic activists and small business owners, developed a set of initial recommendations which was released in March 2017 and we are now testing through pilot projects. Staten Island Arts and the Design Trust issued a call to artists for proposals for pilot projects. The work in this exhibit features the finalists, and the two selected projects.

This exhibition runs concurrently with Gareth Smit: North Shore on view at Alice Austen House on view September 16- December 23.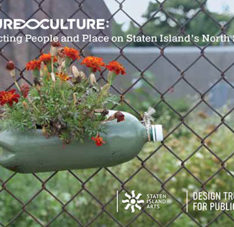 Monday October 16
7pm
Location: Pride Center of Staten Island, 25 Victory Blvd, 3rd Floor, Staten Island, NY 10301
FREE, RSVP here>

At this seminar we will go over the DCA Premier Grant and questions can be answered about the DCA Art Fund Grant and NYSCA Encore Grant. First time applicants MUST attend a seminar.

Any S bus to Victory Blvd at Bay St.; SIRR to Tompkinsville

See www.statenislandarts.org/grants for the full schedule of seminars.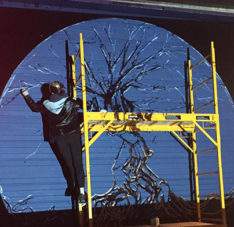 Wednesday, October 18
Sonic Gates Community Forum
Location: Flagship Brewery, 40 Minthorne St, Staten Island, NY
Time: 6:30pm – 8pm
RSVP Here>

Join Volker Goetze and the Sonic Gates artistic team to receive an update and give your input on the design concepts for the sound sculptures that are slated to be installed Spring-Summer 2018.

Sonic Gates connects the North Shore between the St. George Ferry Terminal and the Clifton SIRR station by way of different sound sculptures that help people navigate and appreciate the spaces they occupy. The sculptures promote exploration into St. George, Tompkinsville, and Stapleton through an exciting multisensory experience and intuitive way finding between these sites.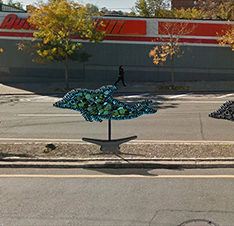 Saturday October 28
2pm-5pm
Location: The Parish House of New Dorp Moravian Church, 2205 Richmond Rd, Staten Island, NY 10306 (Adjacent to Historic Moravian Cemetery. Grounds entrance is on Todt Hill Rd. at corner of Richmond Rd.)
FREE; RSVP Here>

As the 5-year anniversary of Hurricane Sandy approaches, join us at this auspicious time for a public program about Staten Island weatherlore of the past, present and future. Island life makes us particularly perceptive to the effects of storms and other water-based natural disasters. Being part of a coastal community permeates our being and daily life to its core. Come share your personal experiences and tales of living through storms past, including Hurricane Sandy, as part of our Staten Island community story circle. Enjoy light refreshments as you learn about our Trouble the Water archival collection. Get the chance to view and learn about unique water-based rituals and art forms, from Sri Lankan water purification rituals and West African libations, to folktales and songs that preserve local weather history. Be in the know about coastal storm prep and disaster-preparedness as we look to the impact of future storms on our beloved borough.

Staten Island Storms is supported through the generosity of the New York State Regional Economic Development Corporation and the New York State Council on the Arts with the support of Governor Andrew Cuomo, the National Endowment for the Arts, the New York City Department of Cultural Affairs with the support of City Council, New York City Councilman Steven Matteo, NYC & Company, the Investors Foundation, and The Lois & Richard Nicotra Foundation.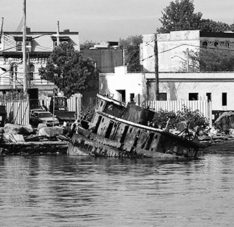 Tuesday, November 7
New Earth Resiliency Oracle Card Reading
Location: ArtSpace @ SI Arts, 23 Navy Pier Court, Staten Island, NY 10304
Time: 7pm – 9pm
RSVP Here>

Tattfoo Tan's New Earth Resiliency Oracle Cards are a modern version of tarot cards used as a divination and healing tool. NEROC looks inward in order to be centered, to heal, to know yourself, and to discover both the positive and the pains. It consists of 14 sets of 4 cards relating to the stages of human growth, elements, seasons, temperament dispositions, celestial bodies, nature, weather phenomena, cardinal virtues, monomyth, the suits, male archetypes, female archetypes, tools and natural disaster.

Come for a reading. Your connection, intuition and interpretation will shape it. Discover the state of your mind. What shall you call into focus today? What do you need to know right now?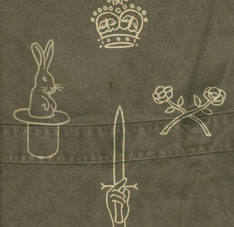 Monday, November 20
Court Yard Fridays Listening Party
Location: Maker Park Radio (tune-in), www.makerparkradio.nyc
Time: TBD

Tune in to preview some of the musical genres and acts that Court Yard Fridays is curating into their plans for next summer!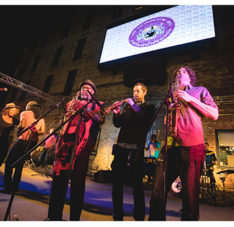 Thursday, November 30
How to Realize Your Project on a Grassroots Level
Location: ArtSpace @ SI Arts, 23 Navy Pier Court, Staten Island, NY 10304
Time: 7pm – 9pm
RSVP Here>

Building community through grassroots projects is never easy — but it is worth it. Coming together with others who share your values and pooling resources is a powerful act, pushing back against feelings of isolation and the false sense of competition that too often divides us. This event will feature success stories and offer a forum to consciously speak up, listen, step forward, step back, and build a realistic conversation around sustaining grassroots projects and yourself in this important work!
Facilitated by Monica Valenzuela.