Video and Performance Art Festival
LUMEN 2016 | DATE: Sat, June 25 | 7PM-midnight
Location: Atlantic Salt Company, 561 Richmond Terrace, Staten Island, NY 10301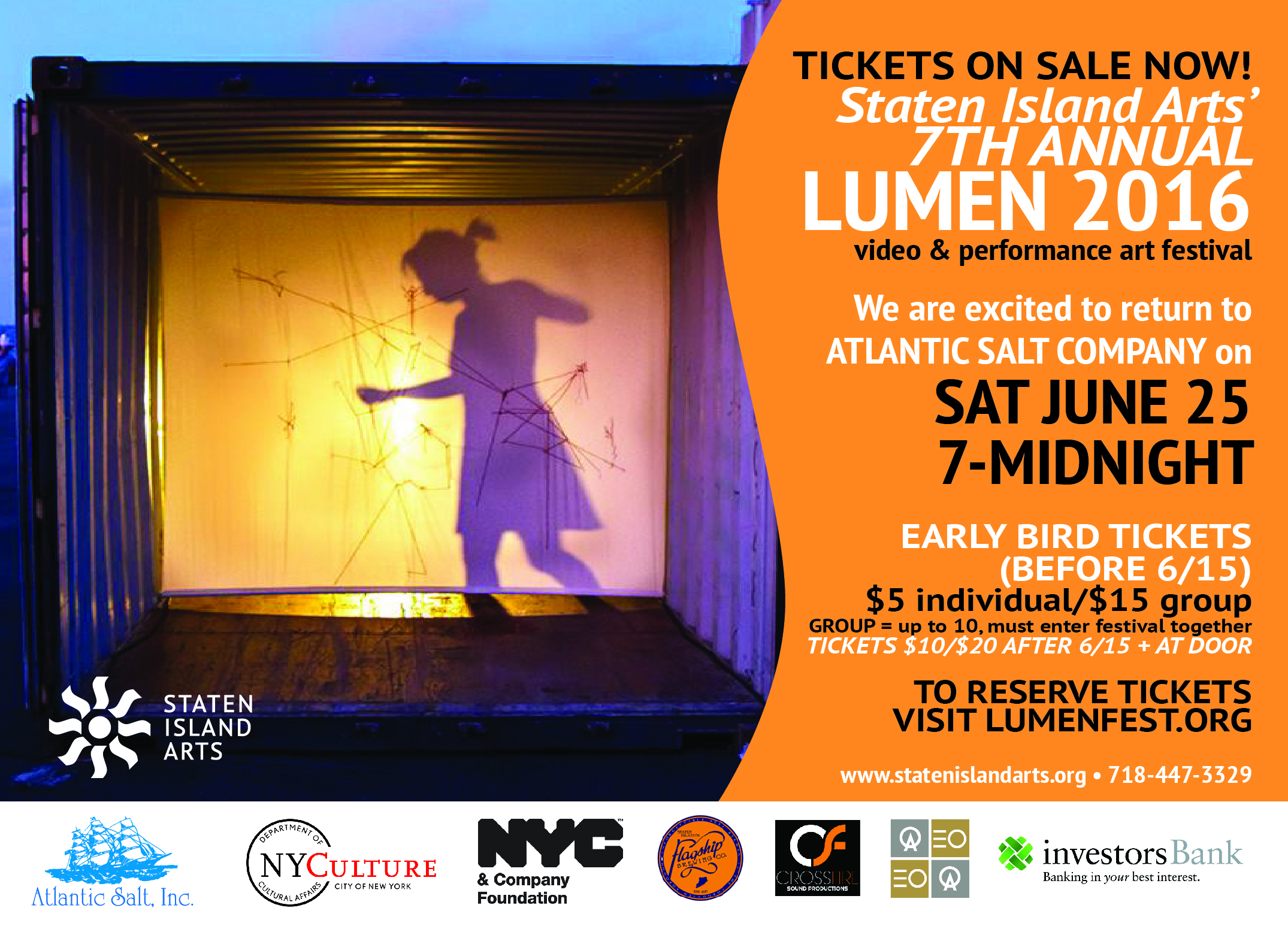 LUMEN is an authentic contemporary art experience in New York City featuring emerging and established artists. LUMEN's goal is connecting artists with the community all while exposed in a nomadic alternative space. The annual event brings original visual, performance and installation art to new audiences, under the artistic vision of various curators from across NYC.

EARLY BIRD (through June 15th) Tickets for this community event are $5/individual and $15/Group (Groups can include up to 10 friends/family, all persons need to enter festival together at same time.)

REGULAR ADMISSION (after June 15th and at the door) $10/individual $20/Group (Up to 10 persons). Tickets can be purchased starting April 15, 2016.

FOR TICKETS, CLICK HERE>

FOR FESTIVAL MAP AND ARTIST INFORMATION>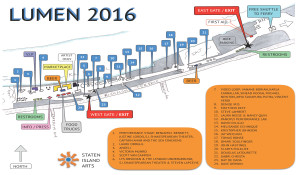 STAY UP TO DATE ON ALL THINGS LUMEN:
–Like LUMEN on Facebook

—Sign-up for LUMEN e-updates


About the Curator

Monica Valenzuela is a curator, arts administrator, and freelance photographer who specializes in storytelling, community-based project management, and lifestyle portraiture. As the Deputy Director at Staten Island Arts, she works closely with the diverse cultural ecosystem of Staten Island and values neighborhood-based cultural activities. She enjoys identifying alternative spaces for art and working with artists to develop sustainable projects that bring art in the public sphere. Notable projects include Staten Island Arts' LUMEN festival, a cutting-edge video and art festival on Staten Island's waterfront.

Monica's past curatorial projects include, "MEXICANation" (presented at Snug Harbor Cultural Center in 2010), an exhibit featuring twenty-four prints that are part of a long-term photo essay by Irma Bohórquez-Geisler; "Sacred Spaces in Profane Buildings" (presented at Open Art Surgery, as part of 2012), Matilde Cassani's comprehensive archive of sites of worship in the five boroughs located in otherwise "non-religious" buildings; "Passenger & Vessel" (presented at SI Arts Culture Lounge, 2014), featuring interactive video art by The Sperm Whale Collective; and "Great Richmond" (presented at SI Arts Culture Lounge, 2015), a crowd-sourced public sculpture/interactive diagram that is a collaboration between cartographer and urban theorist Neil Greenberg and sculptor Will Corwin. Recent projects includes "Great White," featuring artist Victoria Munro investigating ideas relating to the physical gallery space of Culture Lounge, its proximity to its harbor setting, and the broader community need for exhibition space. Great White is currently on view at Staten Island Arts' Culture Lounge Gallery. Monica currently serves as a member of the Times Square Alliance Curatorial Committee, Naturally Occurring Cultural Districts of New York, DOT Art Committee, and the Staten Island Chamber of Commerce's Young Professionals Group Leadership Committee.
General Event FAQ

Where is Atlantic Salt Company?
Atlantic Salt Company is located at 561 Richmond Terrace, Staten Island, NY 10301.

How is this festival different than other festivals in and around NYC?
The LUMEN Festival is an annual contemporary art experience, featuring emerging and established artists from around NYC Metro Area, as well as international artists from Indonesia, Ireland, Israel, and beyond. LUMEN's goal is connecting artists with the community in an alternative gallery space. This 7th annual event will bring original visual, performance, and installation art to new audiences, under the artistic vision of curator, Monica Valenzuela.

LUMEN 2016 will take place at Atlantic Salt Company's waterfront industrial warehouse and dock, a privately owned site that houses road salt throughout the year. Many of the performances and installations are created specifically for this site, incorporating the industrial waterfront elements, including shipping containers and the salt itslef.

When do the festival gates open and close?
Saturday June 25th, 7pm-midnight.

What's the best time to arrive?
While the gates open at 7pm, the performances will begin and illuminated work will begin to become more visible closer to sunset, around 8:30pm. We suggest folks arrive early, grab a bite to eat, and plan to spend the evening with us!
Arriving later? No problem! While some of the festival components are ephemeral, a lot of the acts will be durational and looped. We will admit access to festival until 11:59pm.

Are there ID requirements or an age limit to enter the event?
This event is all ages.
Any guests 21+ will show ID upon entry to receive a wristband to gain access to bar. Hands of all guests under 21+ years of age will be stamped for re-entry.

What are my transport/parking options getting to the event?
PARKING: THERE IS NO ONSITE PARKING FOR GUESTS TO the Lumen Festival. There is ample street parking in the neighborhood.

DIRECTIONS:

By Public Transportation & Free Shuttle – take the Staten Island Ferry, or your local bus or Staten Island Subway line to the Saint George Ferry Terminal in Staten Island. Exit the terminal towards the West, following the exit signs that point to the baseball field. Outside the exit doors, at the bottom of the steps will be shuttles that are marked with "FREE LUMEN SHUTTLE" signs. This shuttle will take you a half of a mile along the water to the East Gate Entrance. Shuttles run approximately every 15 minutes to and from the festival from 6pm to 12:30am.

By Car – You can enter 561 Richmond Terrace into your GPS. If traveling to the site from the St. George Ferry Terminal in Staten Island, drive west on Richmond Terrace approximately 1.2 miles to the West Gate Entrance located to the left of Gerardi's Farmer's Market on Richmond Terrace. Street Parking is available.

By Bus – In Staten Island, take MTA's S-40 bus that runs along Richmond Terrace (you can get on at the bus terminal located at the ferry terminal), exit at the Jersey Street stop approximately one mile from the St. George Ferry Terminal and walk towards the water to the East Gate of the festival. *See above for the free shuttle option from St. George Ferry Terminal.

Can I ride my bike?
Of course! We do ask you to dismount upon arrival. There is a designated FREE Bike Parking section located inside the festival. It will be located close to the festival entrance at Bank and Jersey Streets.

Can I bring a chair/blanket to sit on?
Yes, blankets and chairs are permitted. Please do not leave your belongings unattended. Staten Island Arts and Atlantic Salt are not responsible for Festival guest belongings.

Should I bring cash or a credit card?
Cash and credit cards will be accepted by vendors throughout the Festival. An ATM will also be available inside the event.

Will there be food options?
A variety of concessions and food trucks will be available, including: Beans and Leaves; HoBrah; Valduicci's Pizza Truck; Dub Pies; Pier 76; Mac Truck; Tip the Wagon; Beezy Bees Honey; Gigglemugs Vegan Cookies; Atlantic Salt – FREE WATERMELON; Victoria Ezell Dog Treats

What are acceptable forms of ID to purchase alcohol with?
Driver's license or Government issued ID.

Where can I contact the organizer with any questions?
lumen@statenislandarts.org

Is my registration/ticket transferrable?
Yes, if you purchased a ticket that you are gifting to a friend or can no longer attend, whoever has ticket will be able to gain entry. IDs are only checked for those 21+ years who are looking to purchase alcohol.

Do I have to bring my printed ticket to the event?
Yes you must bring your ticket to the event. It will be scanned upon entry.

What is the refund policy?
There are no refunds.

The name on the registration/ticket doesn't match the attendee. Is that okay?
Yes, as long as they have a ticket in hand they will gain access.

What can/can't I bring to the event?
• All guests and items (small purses, clear bags, etc) are subject to inspection by security and anyone not agreeing to this search will be restricted from entering the event
• No bottles, cans, liquid containers or coolers (except for guests with medical or dietary needs)
• No weapons and/or firearms of any kind
• No laser pointers
• No artificial noisemakers
• No hover boards / motorized scooters
• No promotional items with commercial slogans or identification without consent from Staten Island Arts
• Any item deemed dangerous or inappropriate by venue staff or management will not be allowed at Staten Island Arts' LUMEN Festival
• Confiscated items will be disposed of and not returned
• Please note: This show may contain acts with explicit material. All material will have appropriate signage.
• Items left in vehicles should be stored out of sight.
Volunteer Opportunities

Staten Island Arts is looking for energetic and outgoing volunteers to help make another LUMEN a success. Your help is vital to this event! It's also great way to network and meet other artists and art-lovers.

We're looking for people who are skilled in, or are interested in learning about:
– Technical operations: electrical, audio, video
– Production management
– Art installation
– Customer service
– Merchandise/ticket sales

Help make the festival happen and meet other LUMEN Lovers! Fill out this form and/or contact Meredith Sladek, 2016 LUMEN Volunteer Coordinator, at volunteer@statenislandarts.org.

Vendor Opportunities

What kind of vendors are you looking for?

Staten Island Arts is pleased to partner with Flagship Brewery's Made in Staten Island to present a handmade vendor marketplace at its seventh annual LUMEN festival which will take place on Saturday, June 25, 2016 at Atlantic Salt Company's waterfront dock at 561 Richmond Terrace.

Handmade products, merchandise, art, and displays featuring lighting will be considered first. Applicants are not required to be from Staten Island, though Staten Island artists are a priority and strongly encouraged to apply. We will not accept vendors re-selling manufactured merchandise.

What is the cost to be a vendor at LUMEN 2016?

No commission will be taken by Staten Island Arts, flat fee to vend is $60. (A limited number of food truck and vendor spots are also available for $350.) All Vendors/Merchants are responsible for sales and tax collection.

What comes with the fee?

A tent and basic lighting will be provided by Staten Island Arts' LUMEN Festival. All entrants will need to supply their own tables, chairs, racks, and displays. This show is waterside and can be windy please be sure to bring weights to hold down your merchandise. Electricity will be available.

How do I apply?

There is a limited number of spaces and we try to curate the space to limit competition and ensure a diverse marketplace. To apply, please submit 2 images (jpegs not to exceed 1,400 Pixels in longest dimension)/photos of your display and a brief description of your products, plus your name, address, phone#, cell#, and e-mail address. Handmade products, merchandise, art, and displays featuring lighting will be considered first. Applicants are not required to be from Staten Island, though Staten Island artists are a priority and strongly encouraged to apply. Submit via e-mail to: lumen@statenislandarts.org on or before June 1, 2016 at 11:59 P.M.

How do I know if I've been selected?

Notification will be made as entrants are accepted. Accepted entrants will receive a contract with notification shortly after. Once completed contract and payment is received your space is reserved.

Questions? Concerns? Please email lumen@statenislandarts.org.