Video and Performance Art Festival
LUMEN 2016 | DATE: Sat, June 25 | 7PM-midnight
Location: Atlantic Salt Company, 561 Richmond Terrace, Staten Island, NY 10301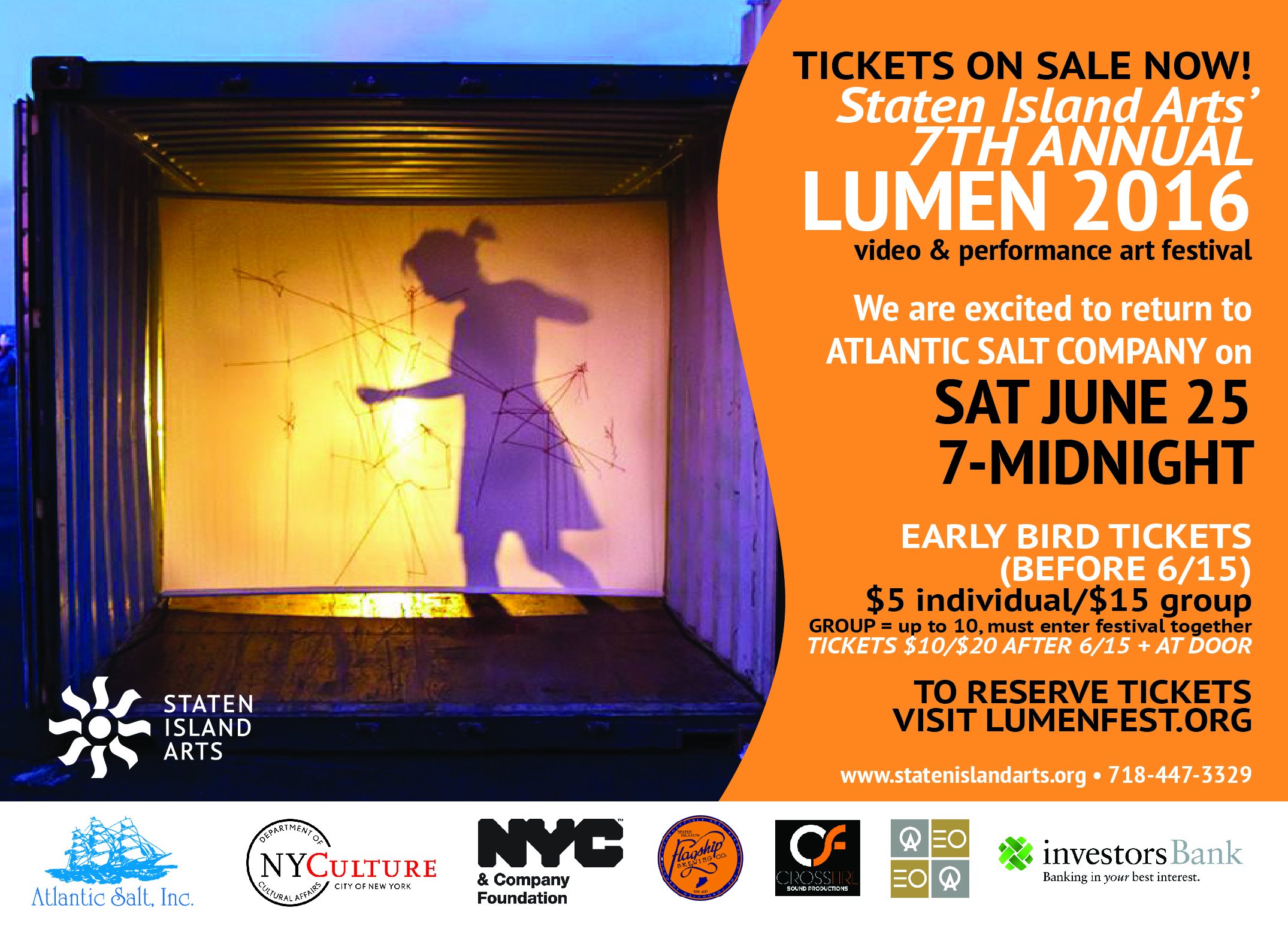 LUMEN is an authentic contemporary art experience in New York City featuring emerging and established artists. LUMEN's goal is connecting artists with the community all while exposed in a nomadic alternative space. The annual event brings original visual, performance and installation art to new audiences, under the artistic vision of various curators from across NYC.

EARLY BIRD (through June 15th) Tickets for this community event are $5/individual and $15/Group (Groups can include up to 10 friends/family, all persons need to enter festival together at same time.)

REGULAR ADMISSION (after June 15th and at the door) $10/individual $20/Group (Up to 10 persons). Tickets can be purchased starting April 15, 2016.

FOR TICKETS, CLICK HERE>

STAY UP TO DATE ON ALL THINGS LUMEN:
–Follow our LUMEN blog

–Like LUMEN on Facebook

—Sign-up for LUMEN e-updates


About the Curator

Monica Valenzuela is a curator, arts administrator, and freelance photographer who specializes in storytelling, community-based project management, and lifestyle portraiture. As the Deputy Director at Staten Island Arts, she works closely with the diverse cultural ecosystem of Staten Island and values neighborhood-based cultural activities. She enjoys identifying alternative spaces for art and working with artists to develop sustainable projects that bring art in the public sphere. Notable projects include Staten Island Arts' LUMEN festival, a cutting-edge video and art festival on Staten Island's waterfront.

Monica's past curatorial projects include, "MEXICANation" (presented at Snug Harbor Cultural Center in 2010), an exhibit featuring twenty-four prints that are part of a long-term photo essay by Irma Bohórquez-Geisler; "Sacred Spaces in Profane Buildings" (presented at Open Art Surgery, as part of 2012), Matilde Cassani's comprehensive archive of sites of worship in the five boroughs located in otherwise "non-religious" buildings; "Passenger & Vessel" (presented at SI Arts Culture Lounge, 2014), featuring interactive video art by The Sperm Whale Collective; and "Great Richmond" (presented at SI Arts Culture Lounge, 2015), a crowd-sourced public sculpture/interactive diagram that is a collaboration between cartographer and urban theorist Neil Greenberg and sculptor Will Corwin. Recent projects includes "Great White," featuring artist Victoria Munro investigating ideas relating to the physical gallery space of Culture Lounge, its proximity to its harbor setting, and the broader community need for exhibition space. Great White is currently on view at Staten Island Arts' Culture Lounge Gallery. Monica currently serves as a member of the Times Square Alliance Curatorial Committee, Naturally Occurring Cultural Districts of New York, DOT Art Committee, and the Staten Island Chamber of Commerce's Young Professionals Group Leadership Committee.
General Event FAQ

Where is the event and how can I get there?
LUMEN 2016 will take place at Atlantic Salt Company, located at 561 Richmond Terrace, Staten Island, NY 10301.

Is there a rain date?
LUMEN is an outdoor event. Light rain will be handled with tarps, heavy rain will cancel the event. There is NO rain date.
Volunteer Opportunities

Staten Island Arts is looking for energetic and outgoing volunteers to help make another LUMEN a success. Your help is vital to this event! It's also great way to network and meet other artists and art-lovers.

We're looking for people who are skilled in, or are interested in learning about:
– Technical operations: electrical, audio, video
– Production management
– Art installation
– Customer service
– Merchandise/ticket sales

Help make the festival happen and meet other LUMEN Lovers! Fill out this form and/or contact Meredith Sladek, 2016 LUMEN Volunteer Coordinator, at volunteer@statenislandarts.org.

Vendor Opportunities

What kind of vendors are you looking for?

Staten Island Arts is pleased to partner with Flagship Brewery's Made in Staten Island to present a handmade vendor marketplace at its seventh annual LUMEN festival which will take place on Saturday, June 25, 2016 at Atlantic Salt Company's waterfront dock at 561 Richmond Terrace.

Handmade products, merchandise, art, and displays featuring lighting will be considered first. Applicants are not required to be from Staten Island, though Staten Island artists are a priority and strongly encouraged to apply. We will not accept vendors re-selling manufactured merchandise.

What is the cost to be a vendor at LUMEN 2016?

No commission will be taken by Staten Island Arts, flat fee to vend is $60. (A limited number of food truck and vendor spots are also available for $350.) All Vendors/Merchants are responsible for sales and tax collection.

What comes with the fee?

A tent and basic lighting will be provided by Staten Island Arts' LUMEN Festival. All entrants will need to supply their own tables, chairs, racks, and displays. This show is waterside and can be windy please be sure to bring weights to hold down your merchandise. Electricity will be available.

How do I apply?

There is a limited number of spaces and we try to curate the space to limit competition and ensure a diverse marketplace. To apply, please submit 2 images (jpegs not to exceed 1,400 Pixels in longest dimension)/photos of your display and a brief description of your products, plus your name, address, phone#, cell#, and e-mail address. Handmade products, merchandise, art, and displays featuring lighting will be considered first. Applicants are not required to be from Staten Island, though Staten Island artists are a priority and strongly encouraged to apply. Submit via e-mail to: lumen@statenislandarts.org on or before June 1, 2016 at 11:59 P.M.

How do I know if I've been selected?

Notification will be made as entrants are accepted. Accepted entrants will receive a contract with notification shortly after. Once completed contract and payment is received your space is reserved.

Questions? Concerns? Please email lumen@statenislandarts.org.