Video and Performance Art Festival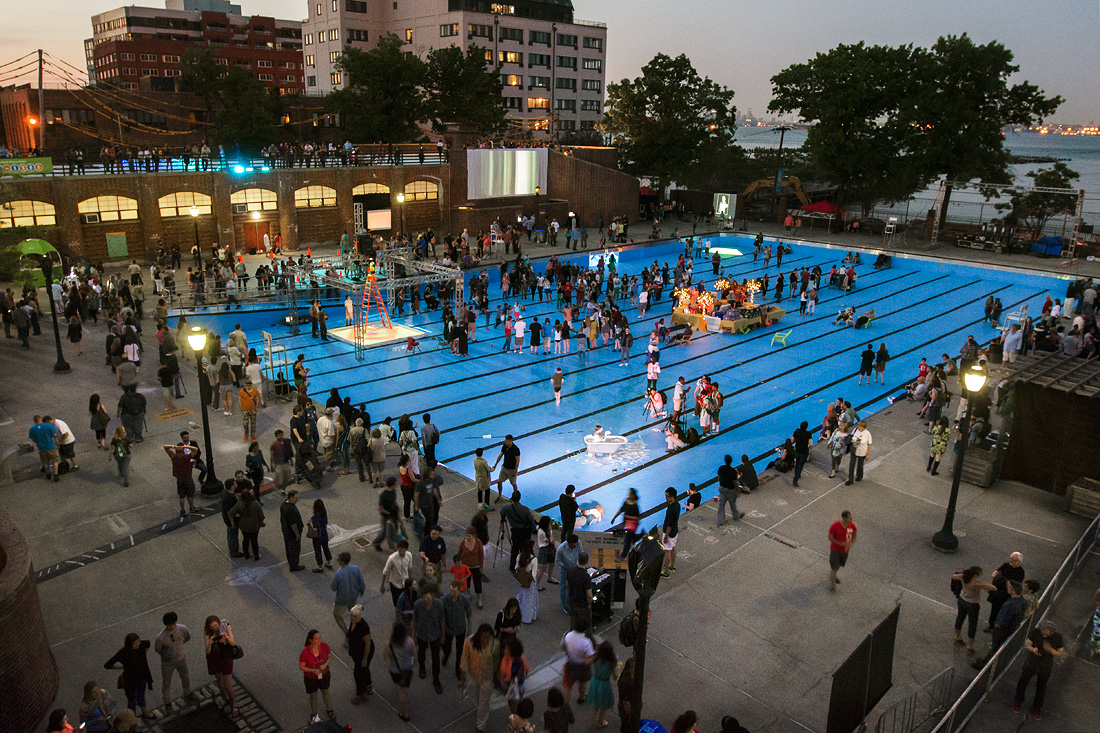 Image: LUMEN 2013, Lyons Pool. Courtesy of Glen DiCrocco Photography

LUMEN is not a traditional film festival or gallery art experience. It is a one-day, 6-hour festival that features video and performance art by emerging artists and more established artists at the forefront of their media.

LUMEN begins before the sun sets and continues until midnight. Videos, performances, and installations occur simultaneously. There is no "main stage" or center focus, instead visitors are invited to safely and organically discover art scattered throughout the site.

SAVE THE DATE:
LUMEN 2014 is scheduled for Saturday, June 28, 2014! We are celebrating the fifth incarnation of the festival back where it all began: Atlantic Salt Company's waterfront dock.

The Open-call application goes live on Monday, January 13 and are due on Friday, February 21 by midnight.

Please read the application guidelines and eligibility thoroughly, as they have changed from years past.

APPLY NOW —>

Applications will open on Monday, January, 13.

STAY UP TO DATE ON ALL THINGS LUMEN:
–Follow our LUMEN blog

–Like LUMEN on Facebook

–Sign-up for LUMEN e-updates.

General Event FAQ

Where is the event and how can I get there?

LUMEN 2014 will take place at Atlantic Salt Company's waterfront dock, located at 561 Richmond Terrace. It is within walking distance from the ferry terminal. The ferry ride to Staten Island is approximately 30 minutes, and its schedule can be found here.

Is there parking onsite?

Check back here for 2014 parking information.

Is there a rain date?

LUMEN is an outdoor event. Light rain will be handled with tarps, heavy rain will cancel the event. There is no rain date.
Volunteer Opportunities

Staten Island Arts is looking for energetic and outgoing volunteers to help make another LUMEN a success. Your help is vital to this event! If you like: contemporary art, alternative art spaces, waterfront views of NYC, and volunteering, this is a great opportunity for you!

If you are interested in getting more experience with Event production, Production Management (Projectors, DVD players, Screens), Art installation, and Customer Service this is the place for you. If you already have that kind of experience, consider it a mega-plus! Its also great way to network and meet other artists and art-lovers.


Not able to join us at the Volunteer Meeting/Party? That's O.K. We missed you! Still interested in making a bleach tee and helping out?? Super! Fill out this form and/or contact Ri Chavez at rchavez@statenislandarts.org.
LUMEN 2014 Curators

David C. Terry (curating LUMEN 2013′s video and installation work) is the Director of Programs/Curator at the New York Foundation for the Arts (NYFA) where he oversees the Fellowships, Curatorial, Sponsorship and Professional Development Programs.

Prior to NYFA, Mr. Terry was Assistant Director at the Pelham Art Center, where he directed the exhibition, educational and outreach programs. His professional career covers a wide range of curatorial, artistic, arts administrative and academic experience. He earned his BA at the College of William and Mary, and while earning his MFA in Sculpture from the University of Pennsylvania, Mr. Terry began his administrative and teaching career. Since that time he has taught a variety of classes including objective and figurative drawing, abstract and figurative sculpture, portraiture and environmental and site-specific sculpture to students of all age ranges. Mr. Terry is a working artist, curator, juror, and a panelist for the New York State Council on the Arts, Bronx Council on the Arts, Westchester Biennale, the Alexander Rutsch Award in Painting, the Woodstock Byrdcliffe Artist in Residence Program, and a member of the GIA Support for Individual Artists Group Steering Committee.

Mr. Terry's awards include Artists in the Marketplace Program, The Bronx Museum of the Arts; BRIO, Bronx Council on the Arts; The Puffin Foundation; New York Foundation for the Arts Fellowship in Sculpture, and the Arts and Business Council's Arts Leadership Institute Award and the Elizabeth Foundation's Residency Grant.

Esther Neff (curating LUMEN 2013′s performance art) is an artist, curator, and theorist based in Brooklyn, NY. She is the founder of the Panoply Performance Laboratory (PPL), which is a performance space in Bushwick, a flexible collective, and the moniker for her collaborative performance work with Brian McCorkle.

Curatorial projects are often in the form of performative institutional critique and have included two conferences, exhibitions at Grace Exhibition Space, Vaudeville Park, BOB the Pavilion at Columbia University, SUPERFRONT at Industry City, tours to Chicago and Berlin, four years of PERFORMANCY FORUM, a monthly platform for performance art, social performance practices, and critical dialogue, and collaborative curation with IV Soldiers Gallery, The Super Coda/Valerie Kuehne, and the No Wave Performance Task Force. She is a lead organizer of the upcoming Brooklyn International Performance Art Festival (July 2013). Her own work has been supported through Swing Space from LMCC and Ind-Tier from BAC, residencies at University Settlement, chashama, and LPAC, and performed around the world.

Staten Island Arts, New York City Parks Department, along with Mr. Terry & Ms. Neff, will transform the waterfront property into a luminous playground, equipped with empty Olympic size pools that have been turned into video screening areas, and roof top access to allow for a view of the Manhattan skyline alongside installation pieces.
LUMEN 2014 Participants

Check back soon!
2014 Media Kit

Check back soon!

Interested in including covering/researching LUMEN Festival? Contact Monica Valenzuela at 718-414-6904 or mvalenzuela@statenislandarts.org for more information.
2014 Vendors & Sponsors

Check back soon!

Interested in becoming a sponsor or vendor at LUMEN 2014? Contact Monica Valenzuela at 718-414-6904 or mvalenzuela@statenislandarts.org for more information.
2013 Vendors & Sponsors

Partners:
NYC Parks + Recreation
ProShow Productions

Sponsors:
Brooklyn Brewery
Emporio dei Giovani
Hart + Sol Photo
Kathy's Kapers General Contractors
NYC Department of Cultural Affairs
PepperJack Grill
School of Visual Arts
Staten Island Business Trends
Staten Island Museum

Vendors:
Brooklyn Brewery
CoolHaus
Desi Food Truck
Killmeyer's Old Bavarian Inn
Majestic Vending
Morris Grilled Cheese Truck
PepperJack Grill
Phil's Steaks