"Video is almost the same as painting...but goes one further in that the element of time is introduced and there is a director pulling your eye around the world inside the frame"
Posted on 6/23/11 by lumenfest
"Video is almost the same as painting…but goes one further in that the element of time is introduced and there is a director pulling your eye around the world inside the frame"
Featured LUMEN Artist and EIA Award Recipient: Brendan Coyle… on LUMEN!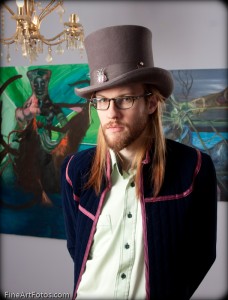 In "Screen Test Ad Finitum," viewers are invited to interact with the infinity screen… What is an infinity screen?

The infinity screen is the phenomenon of pointing a camera at a projection that is recording and transmitting a live feed straight to the projector, therefore creating an image of itself, and that becomes multiplied infinitely within itself because its continuously transmitting. So, if the camera is positioned on a tripod and zoomed to capture the edges of the projection you will see a rectangle of light within itself, disappearing at the center in its own multiplication. when people or things are in front of the camera and someone is manning the camera, it becomes a psychedelic, interactive experiment. there is also a slight delay in the feed so movements become trailed, and tilting of the camera makes it kaleidoscopic.


Explain your project a in a little more detail, what will your performance will entail?

I will perform in front of the screen periodically as a demonstration, and also leave the piece on for others to step in and out of. However the main focus of the piece is in its title. By calling it "Screen Test" I've directly referenced
Andy Warhol
, with subversive critiques of his work and the culture surrounding him inculcated in the piece. Throughout the course of the evening I will invite guests to stand in front of the screen in a similar fashion to the Warhol screen tests, a brief recording of people doing nothing or next to nothing, kind of collecting their images as a symbiotic trade, a supposed win win transaction in the literal Factory of fame byproduct that was his operation. You may already be able to tell by my tone that I wish to debunk that completely by offering the visitors infinity instead of brevity. In addition, whenever I appear in the screen I will be faceless, and dressed all in white, so I will be blending with the screen itself, which should create a great visual and metaphorical effect.I can salute Warhol for his rash rejection of the seemingly endless stream of abstract expressionism preceding his moment, and his wise criticisms and witticisms of people and their desires. I would continue the tradition of rebellion and grind against the pop art movement, pointing out its failure to teach anything to anyone, because I think that society took it all quite literally, adopting at face value what was meant, or should have been meant as scathing sarcasm.
What inspires your exploration into live video performance?
Early in my studies I started playing with the medium, though I never identified as a video artist. I would often juggle different media trying to figure out which was the best combination of power and realism (in the sense that the art is something tangibly real instead of a removed theatrical thing). Performance hit home strong with this because a non-theatrical piece can be a "real" ritual, and theres great interplay there when your content has to do with mythos and belief systems. Sculpture is of course very tangible and exists within your space, but usually lacks the endless limitations of what can happen on the other side of a picture frame, but with painting the viewer stuck on one side of that frame powerless to continue inside of it and explore it. Video is almost the same as painting in that respect but goes one further in that the element of time is introduced and there is a director pulling your eye around the world inside the frame. A few times I have tried to play with projection as a way to make paintings of light become tangible and blend with real space and time.
What was the first video performance that you did?
In college I learned to edit video on an analog tape deck, which by my guess was probably one of the last courses offered in that kind of editing. In one of my projects I decided to edit the 1954 Kirk Douglass movie Ulysses. I made a cast of my head and chest, a plaster bust, and shone a projected video loop upon it of one of the conversations in the movie that cuts back and forth between various characters talking; in the movie this two-shot or three-shot as it were was filmed from the chest up, so they looked like talking busts. This was followed by a second projection that was a full length of Kirk Douglass as Ulysses tied to the mast of his ship so he could listen to the Sirens, and his crew all earplugged with wax so they would not steer the ship towards the Sirens. My loop started with the full length shot projected over me, covered in a white sheet and tied up with white nylon rope, the shot zooms all the way into his face, screaming, so as it zooms in my 3 dimensional body becomes more apparent. I guess this was some tongue in cheek play on classical sculpture and the advent of modern media being accepted as fine art.
Do you have any inspirations or recommended viewings you'd like to share?

I'm bad at this. It's usually things outside of the heady realm of Fine Art that inspire me.

I am just finishing up a bestseller called "How the Irish Saved Civilization: The Untold Story of Ireland's Heroic Role from the Fall of the Roman Empire to the Rise of Medieval Europe" by Thomas Cahill. Its a bright, funny, inspiring and extremely informative read that has got me wanting to follow a myriad of leads into historic literature. The human story is the best guidebook for creating the next chapter of itself. I recently went to the Met and waited an hour and a half in a line winding through the entire museum to see Alexander McQueen's fashion retrospective. It was amazing to see up close these incredible hand made garments, elaborate costumes that come from a lurid and visual imagination. They were like shells that could be put in play by fantasy movie directors, or dumbed down and ripped off by second rate designers that would commercialize it for a populous that has no desire to match its climate. In one room I found myself mistaken that I was in a haunted Pier One Imports. Otherworldly and beautiful but offering little intellectual challenge, naturally much of my focus was on the interaction between the fawning crowds of wanting souls and the works of extravagance. I must also highly recommend going to see Punchdrunk Theater's "Sleep No More", an immersive (by definition) theater piece where you wander around with masks on as audience and the actors are flitting from room to room in a reinvented 100 Room hotel in Chelsea. There's not much I can say except that it presents itself in a way I've always dreamed of presenting art.
How did you get involved with LUMEN?
My work with animator Steven Lapcevic, "Clowntrodden" debuted at the first Lumen festival last year, although what we consider to be the prequel was shown at COAHSI's first annual Ga.La event at Howland Hook Container Terminal.

I have been a big part of the art scene on Staten Island for the past few years, co-founding with Amanda Curtis the North Shore's Second Saturday art walk, participating in group shows and attaining local grants to do original projects for audiences on Staten Island, and attracting audiences to Staten Island.

One of my most active compatriots in the scene has been Lumen's curator, Ginger Shulick, and we've worked together on alot of projects in other boroughs as well as Staten Island. I also helped create the branding for Lumen when I designed the logo that's still in use and helped engineer the former website.
What other performances/video work will you be part of at the festival?
CLOWNTRODDEN Chapter III animated by Steven Lapcevic conceived and performed by myself, and this time we will introduce another figure interrupting the projection, played by Amanda Curtis! As it appears in the program:
"Clowntrodden is an ongoing series of animated video installations involving performances by a white clad figure who becomes a three dimensional aspect of the screen, and stands in the line of fire of the figurative element of the projected animation. Conceived of and performed by Brendan Coyle, envisaged and improvised upon by Steven Lapcevic, the team of artists seek to arrive eventually at an episodic film about the degradation of society and the arrested development of modern men by generational shifts, wars, drugs, entertainment and technology; the vices of the modern era."
Have you any upcoming shows?
Yes indeed, I'm working on a couple more projects at the moment. I've been making prop sculptures for a group installation: "Inflorescence of Sparkling Evil" at A Gathering of the Tribes Gallery in the Lower East Side. I will be TRASH SHAMAN for the duration of the opening, contemplating and performing various rituals with the objects I have made for the installation. TRASH SHAMAN loosely relates to my own made up mythology about a world usurped by an amoebic lord called The Fat, in which humans are forced to live in landfills and who study alchemy in order to break free from their prison. The piece also relates to broader themes covered by the group such as fertility, waste and tribal interconnection.
I am also collaborating with
Thomas Bones
, a Staten Island based musician, on a music video that features
The Mustard Man
, the central hero character of my aforementioned mythology. The Mustard Man, bane of The Fat is a result of the alchemy and biological tinkering of the Hobos in their landfill city.