This book offers a road map to how to become a professional artist
This book offers a road map to how to become a professional artist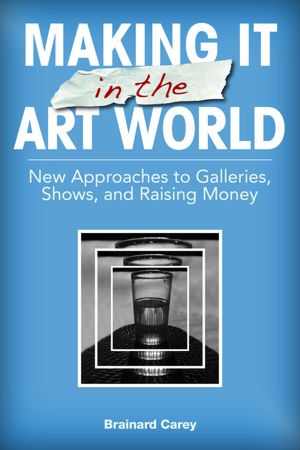 Books are filled with great advice, but there are so many titles! Which offer valuable information for you? We've started this series of short book reports to share some of our favorites.
Visual artist Brainard Carey landed his work in the Whitney Museum without gallery representation and without an impressive exhibition history. How did he do it? In Making It in the Art World: New Approaches to Galleries, Shows, and Raising Money he tells you.
This book offers a road map to how to become a professional artist. In fact, it offers valuable tips on how to run almost any business, because what Mr. Carey is doing in this fun-to-read book is guiding artists through the process of how to be successful entrepreneurs.
Making It gives very detailed guides, including end of chapter worksheets, on each step to take to "make it in the art world."  He covers income models, presentation tools,  relationship building, working with sponsors, managing press, and time management. And he does it in an engaging way by sharing relevant and entertaining stories about real artists, curators, and galleries.
A large portion of the book, covers how to talk to people and find out how they can best help you advance your career. In fact, the book could be subtitled "Schmoozing for Dummies." That's not a bad thing; this is a book I wish had been around when I was a shy, young artist trying to figure out how to move my work into galleries (and hopefully make a little money). Although no one can guarantee that you'll be successful as a professional artist, this book can point you in the right direction.