For almost thirty years this store sold important sounds and symbols of Albanian culture
For almost thirty years this store sold important sounds and symbols of Albanian culture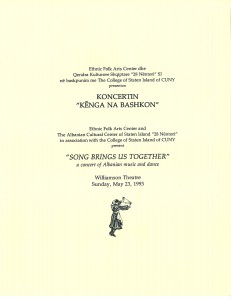 Does anybody know what happened to Video Ulqini on Victory Boulevard in Tompkinsville? The store was near the the intersection of Victory and Cebra Avenue. Video Ulqini was opened in 1983 by Staten Island resident Renzi Murati.  For almost thirty years this store sold important sounds and symbols of Albanian culture to the large Albanian community on Staten Island and the Tri-State Area.
It was an important hub for Albanian music, video, and cultural symbols that were imported from Albania. A place like Video Ulqini contributes greatly to a sense of communal identity, customs, and traditions.  If anyone knows the whereabouts of Video Ulqini, please let me know!
There is a rich culture of traditional music and dance within the incredibly diverse Albanian community.  Recently, I have had the pleasure of meeting with some fantastic folklorists and ethnomusicologist at the Center for Traditional Music and Dance (CTMD).  For over 40 years, CTMD has been woking directly with diverse communities in New York City, to preserve traditional arts and music.
Back in 1993–when they were known as the Ethnic Folk Arts Center–they helped put together a concert of Albanian Music and Dance at the Williamson Theatre at the College of Staten Island.  The program was called "Song Brings Us Together" and featured musicians and dancers living in New York City.  I wish I was there to see it!