The studio will feature an on-going exhibition created by an artist-in-residence (aka the "Art Instigator") and the local community
The studio will feature an on-going exhibition created by an artist-in-residence (aka the "Art Instigator") and the local community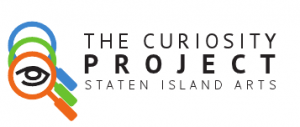 We are pleased to announce the opening of COAHSI's new, pop-up collaborative studio called The Curiosity Project. Located at 143 Beach Street in Stapleton, the studio will feature an on-going exhibition created by an artist-in-residence (aka the "Art Instigator") and the local community. Each month long exhibition will focus on a different theme, where people with little to no experience can try something new.
The first topic of exploration is clay.
Art Instigator Steve Nutt kicked off this month's project with a "Superbowl (Clay) Party," where we learned some clay-work techniques while building a replica of a stadium in celebration of Super Bowl weekend!
Join us for the opening celebration "Ghost" Party on Saturday, Feb. 9 (as part of Second Saturdays) from 4-8 p.m. As our friend Rob Bailey over at the Staten Island Advance said, "You don't need a body like Patrick Swayze to participate just a willingness to TRY something new."
See the gallery below for a recap of Saturday, Feb 2.
Come and "TRY:CLAY"
Mondays from 2-6 p.m. patrons are able to visit the space and view the work being created.
Tuesdays and Thursdays from 3pm-6pm there will be all-ages classes on sculpting techniques. Classes are $10 an hour, per person, which covers the cost of materials used.
Wednesdays from noon-6 p.m. are open studios. Patrons can view Nutt and sculptors with whom he as collaborated in action as they create clay sculptures.
Fridays from 2pm-4pm are ceramics painting classes. For $50, students will receive clay tiles and one clay urn for experimentation and decoration.
Saturday Feb. 16 and Sunday Feb. 24 from noon-5 p.m. patrons can partake in a long-term clay animation project.
Nutt is an artist and educator, who began teaching in 1979. He primarily works in clay but also in fiber and paint. Trained in the tradition of Bernard Leach, redware is his specialty. Nutt was a master craftsman for 8 years at Historic Richmond Town and has made work for the Metropolitan Museum gift shop, and reproduced pottery for Colonial Williamsburg in Virginia. He is an adjunct professor in the Art Department at Wagner College and also teaches classes at the Jewish Community Center. He currently lives and works on Staten Island, the borough he has called home since 1981.
Continuing every month until June, the studio will feature a new Art Instigator and new a topic to explore.
In March: "TRY:FIBER," April: "TRY:MOVEMENT" and May: "TRY:DESIGN."
For more information or to get involved, contact Monica Valenzuela, at 718-447-3329 x1004 or mvalenzuela@statenislandarts.org.