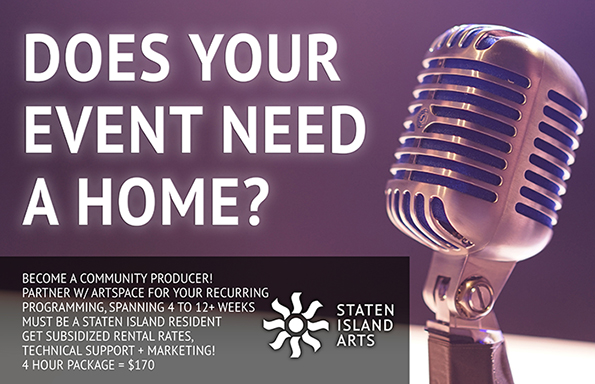 Need an artistic home for your show or a location for your film screening or concert series? Your local arts council can help!

Staten Island Arts is proud to launch its new Community Producers Program at ArtSpace, its home on the Stapleton waterfront. The Community Producers residency is intended for Staten Island-based artists and organizations who seek not just a rental program but a partnership. Through the program, local artists, collectives and organizations can apply for residencies through which the project space at ArtSpace is made available at affordable rental rates and with varying levels of technical and marketing support from the Staten Island Arts staff. Residencies may last from 4-12 weeks.

Questions? Please contact Gena Mimozo at (718) 447-3329 x 1003.

Eligibility

Producers must be Staten Island residents and at least 18 years old.

Proposed programs must be a series of events (Quarterly, Monthly, Bi-Monthly, Weekly).

If your event is only one day please contact our Rental Manager Gena Mimozo at gmimozo@statenislandarts.org to discuss rental rates and availability.

SI Arts reserves the right of refusal if proposed programming conflicts with current programs or events.
Partnership Information

This residency is considered a partnership between Staten Island Arts and local community producers. Staten Island Arts offers 4 or 5 hour packages to producers for use of ArtSpace and all technical needs during their production.

Community Producers are required to pay a fee to participate in the program. The fee is paid per event:
4 hour package = $170.00
5 hour package = $210.00

We highly encourage producers to consider charging a ticket fee. Producers keep all ticket income.

As part of the partnership Staten Island Arts will provide:
– Production Manager
– Full use of all SI Arts technical equipment (includes full PA system, projector, screen, chairs, etc.)
– Incorporation into SI Arts social media marketing
– Community Producer events will be incorporated into SI Arts website
– Use of SI Arts ticketing system for online ticket purchases

Community Producer will provide:
– Serial programming (producer maintains complete creative control)
– at least one production assistant to help with production needs during proposed events
Application Information

The submission form can be found online:

Apply here>

Applications are accepted on a rolling basis and reviewed quarterly by the Staten Island Arts programming team. Incomplete applications might not be reviewed. Quarterly deadlines are: November 1, February 1, May 1, August 1.

Resident Community Producers: