SI Arts Folklife produces public programming that presents and celebrates folk art traditions indigenous to the ethnic communities of Staten Island
Staten Island Seisiún
A monthly afternoon of Irish traditional music on Staten Island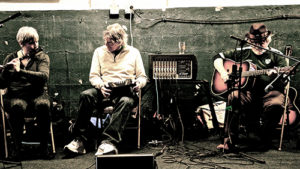 Founded by local favorites, Linda Hickman, Douglas Barr, and Bob Wright, and managed by Staten Island Arts Folklife, the Staten Island Seisiún offer musicians and music lovers an afternoon of music and shared camaraderie onstage and off. The Seisiúns (Gaelic word for session) take place on the first Sunday of each month from November through June in bars and taverns around the island, and specialize in the genres of Ireland's west coast, most specifically east Galway and Clare. As per tradition, these open sessions are informal gathering dedicated to the practice and performance of Irish traditional music unlike an ordinary concert. The Staten Island Seisiún brings together Staten Island's own with great practitioners of traditional Irish music from the other boroughs and New Jersey, and is open to musicians of all levels and ages. All are invited to bring their own instruments and join in to expand repertoire and technique. Music lovers are welcome to come and listen, dance, and enjoy this long-standing tradition.

This program is made possible by the generous support of the Flagship Brewing Company, the New York State Council on the Arts, and the New York City Department of Cultural Affairs. Sessions are free and open to the public. Beer and food are sold separately through the host bars and venues.

For regular updates check out Staten Island Arts' event listing, facebook page and request to join the Staten Island Seisiún dedicated facebook group.

Seisiún Schedule

Thanks to everyone who attended this season's first seisiun, which was held on November 5 at Killmeyer's. We will be posting the new schedule and locations soon.