Events
Need an artistic home for your show or a location for your film screening or concert series? Your local arts council can help!

Apply today to be part of SI Arts' new Community Producers Program which will be run out of ArtSpace, our home on the Stapleton waterfront.

The Community Producers residency is intended for Staten Island-based artists and organizations who seek not just a rental program but a partnership. Through the program, local artists, collectives and organizations can apply for residencies through which the project space at ArtSpace is made available at affordable rental rates and with varying levels of technical and marketing support from the Staten Island Arts staff. Residencies may last from 4-12 weeks.

This residency is considered a partnership between Staten Island Arts and local community producers. Staten Island Arts offers 4 or 5 hour packages to producers for use of ArtSpace and all technical needs during their production.
4 hour package = $170.00
5 hour package = $210.00

Applications are accepted on a rolling basis and reviewed quarterly by the Staten Island Arts programming team. Incomplete applications might not be reviewed. Next deadline is: February 1, 2018.

Click here for Eligibility, Partnership, and Application information>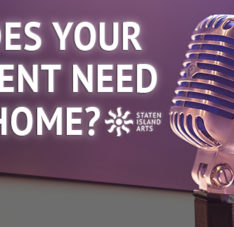 ArtSpace Gallery Hours:
Thursday & Friday: 2pm – 7pm
Saturdays: 12pm – 5pm

* Special scheduling available for groups. Bring your group for a free guided tour!
Contact our Gallery Manager, Tabitha Turchio at tturchio@statenislandarts.org.

How can art and cultural activities enrich and activate the open spaces of Staten Island? We are pleased to announce the extension of Future Culture: Connecting People and Place on Staten Island's North Shore. This exhibit exemplifies the idea of 'place-based,' and we encourage all native and new Staten Islanders to explore the exhibit, which engages many themes that are close to home as the borough undergoes massive change. The Future Culture project is fostering connections between community initiatives to identify opportunities for our public realm and to be a stronghold against unwanted changes.

Staten Island Arts and the Design Trust issued a call to artists for proposals for pilot projects to activate public space on Staten Island's North Shore. The work in this exhibition features the finalists, and the two selected projects, Sonic Gates, a group of interactive sound sculptures; and Court Yard Fridays, a series of weekend concerts which will launch in the Summer of 2018. 

The Future Culture exhibit provides an insider's look at the creative processes for the six finalist proposals. Listen to interviews with finalists and immerse yourself in some of the renderings and concepts developed by Diane Matyas and Kristi Pfister; Kaja Kühl, Zhen Quan, Dissa Raras, and Paul Wang; Kelly Vilar and Ray Zwaryc; Tattfoo Tan; Kevin Washington, Lynn Washington, and Homer Jackson; and Volker Goetze with Alassane Drabo, DB Lampman, Lina Montoya, Jeremy Munson, Sam Samore, Arthur Simms, and Scott Van Campen.

Add your mark to the map… we're documenting it all!

A central feature of the exhibition is a wall-size map documenting initiatives, projects, and events that Staten Islanders have been undertaking in the St. George, Tompkinsville, and Stapleton communities and beyond. Join us and add your project! Better yet, include a picture on Instagram with the hashtag #connectingcultureSI. Can't make it to the physical exhbiit? Participate virtually.

Learn more about Future Culture here.

The Future Culture exhibition is supported, in part, by Councilwoman Debi Rose, Stop & Stor, and our artist, board, individual and business members.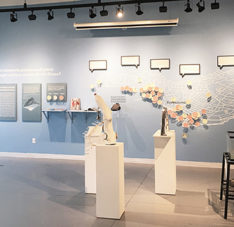 Staten Island Arts presents our first Photography Portfolio Review!
Reserve your spot today!
RSVP HERE

Monday, January 22, 2018 from 6:30-9:00pm
* Please arrive no later than 7:00 to ensure your work can be seen.
This professional development opportunity is provided free of charge. RSVP required
The review is open to all student and emerging photographers.
All experience levels are welcome.

Location: ArtSpace @ Staten Island Arts
23 Navy Pier Court, Staten Island, NY 10304
Located in the URBY complex (Stapleton stop on SIRR)

What is it? And why should you get your work reviewed?
The Portfolio Review is an opportunity for student and emerging photographers to receive valuable, constructive feedback on their photography portfolio from professionals in the field. The evening offers an important moment to network with fellow photographers and industry members, evaluate your goals, and revise your portfolio. Our panel of reviewers is comprised of a host of favorites from the Staten Island photography circuit, including reviewers from the International Center of Photography (ICP), Hub 17, Shutterstock, the Staten Island Advance, City University of NY, Spoke Art Gallery, and more.

What the night entails:
Get settled, mingle with fellow artists, and get in line for your reviewers. Each photographer will present their portfolio to 6 reviewers of their choice. Each review will be one-on-one and last for ten minutes. iPads and laptops welcome. Due to space constraints and easier viewing, please limit photographs to 16 x 20 inches or smaller. View reviewer bio's once posted to choose which reviewers are most relevant for your genre and goals.

PANEL OF REVIEWERS
Raul Barquet, Arts Administrator, Curator & Visual Artist
Kenneth Paul Graham, Photographer, Owner of Kenneth Paul Media & Hub 17, Studio Operations Manager at Staten Island Community Television 
Allen Henson, Editorial Photographer & Filmmaker
Katie Levine, Photographer
Jahtiek Long, Gallery Manager, Hub 17
Bill Lyons, Photographer/Multimedia Specialist, Staten Island Advance
Alyssa Meadows, Photographer & Photo Editor, Shutterstock
Liz Sales, Photographer & Professor, ICP & CUNY
Mike Shane, Photographer & Filmmaker
Amanda Steen, Photographer & Videographer, Staten Island Advance
Sean Sweeney, Photographer
Monica Valenzuela, Hart and Sol Photography

This event is supported, in part, by funds from the New York City Department of Cultural Affairs in partnership with the City Council, and the New York State Council on the Arts with the support of Governor Andrew M. Cuomo and the New York State Legislature.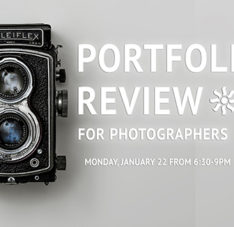 Thursday January 25
6:30pm – 9:30pm
Location: ArtSpace @ SI Arts, 23 Navy Pier Ct, Staten Island, NY 10304
FREE, RSVP here>

The Department of Cultural Affairs expects to release the Fiscal 2019 Cultural Development Fund (CDF) application on Monday, January 8, 2018 with a Monday, February 12, 2018 submission deadline.

RSVP Here>

The online application form is essentially unchanged. For FY19, to reflect the priorities of CreateNYC: A Cultural Plan for all New Yorkers, a complete application will include a request for information on your organization's equity, access and inclusion efforts. Each applicant will provide information in response to uniform questions related to the organization's workforce, board and programming, to ensure that our field is working to become representative of the diversity of the city itself. We will notify your organization by email when the application is available on our website, but wanted you to be aware of the upcoming release date and other time sensitive information.

Eligible arts or cultural organizations may apply for funds for cultural activities taking place between July 1, 2018 and June 30, 2019, unless the organization is currently receiving multi-year support for either the Fiscal 2017-19 or Fiscal 2018-20 grant cycles (organizations in a renewal cycle in FY19 will be separately notified). The CDF application, as in the past, is comprised of two parts: the online form (submitted via DCA's website), as well as required Supplemental materials (submitted via mail or hand-delivery).

PLEASE NOTE: In FY18 the deadline for the Supplemental materials changed from a "postmarked by" date to a "received by" deadline. This change will remain in effect this year. Hard copies of the Supplemental materials must be RECEIVED in our offices by February 12, 2018 at 6:00pm, whether delivered via mail carrier or hand-delivery. Organizations that fail to meet either the online deadline or received-by deadline for Supplemental materials will be ineligible for funding in FY19.

We strongly encourage your organization to attend a CDF application seminar. DCA will be conducting twelve of these throughout the application period. You'll want to mark your calendar; DCA will begin accepting reservations on January 8, 2018 along with the release of the online application.

RSVP Here>

Links for reference:

DCA website: http://www1.nyc.gov/site/dcla/index.page

DataArts: http://www.culturaldata.org

DataArtsTraining: http://courses.culturaldata.org/

DCA User Registration: https://www.nyc.gov/portal/site/DCLASite

Registration Help Guide: http://www1.nyc.gov/assets/dcla/downloads/pdf/cdf_registration_guide.pdf