Past Events
This year, Wagner College and the Council on the Arts & Humanities for Staten Island's folklife program will celebrate Immigrant Heritage Week through an exhibit called "Hispanic Staten Island: Culture and Identity" from April 12 through May 5. The exhibit will feature the sculpture of Olga Ayala, photography by Irma Bohorquez-Geisler, collages by Arlette Cepeda, oil paintings and wood sculptures of Homer Homero, and the quilts andneedlecraftsof Elaine Mendes-Torres. In addition, photos and posters celebrate the founder of Latino Network and author of Yo Soy Latina, Linda Nieves-Powell; the music of Jose Ocasio; and other local Hispanic community members.
Among the items on display are "yo-yo" quilts handed down through three generations and a beaded wedding dress. In the 1940's Elaine Mendez-Torres' mother, brought the mundillo—a bobbin lace tradition from Puerto Rico— into her new home in Staten Island and turned it into a career in Manhattan's garment district as a seamstress. She spent her evenings sewing clothing, adorned with lace, for family communions and wedding dresses. A member of the Staten Island Creative Community, Elaine continues to teach traditional Hispanic needlecrafts. Like so many artists of Hispanic descent, her family's traditions and heritage have been maintained, negotiated, and expressed throughout her life on Staten Island.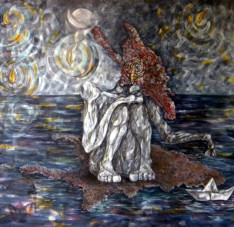 The Curiosity Project is Staten Island Arts' new pop-up collaborative studio in Stapleton!
This month's topic of exploration is DESIGN and will include workshops with Kev of Robots Will Kill. The studio features an on-going exhibition created by the artists-in-residence (the Art Instigators) and the local community. The month-long exhibition will focus on design, where people with little to no experience can try something new.
Regular gallery open hours are Saturdays and Sundays from 12noon to 5pm at Curiosity Project, 143 Beach Street, Staten Island.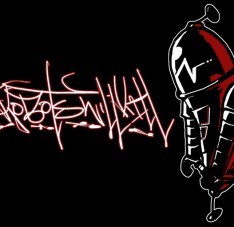 Join Staten Island Arts at the New Museum's IDEAS CITY Festival in New York City for conferences, workshops, an innovative StreetFest around the Bowery, and more than one hundred independent projects and public events that are forums for exchanging ideas, proposing solutions, and accelerating creativity.

Come out and participate in our game show "I'd Tap That" hosted by Jay Miller – where three contestants at a time, culled from the general public, will be invited up to participate in "I'd Tap That," a game show featuring Staten Island trivia. Questions fall into one of the following four categories, each representing an untapped resource that Staten Island has to offer: green space, culture, history, and real estate. Contestants will spin a wheel to choose a category; our captivating game-show host will reward each correct question with one point.

First to three points wins a Staten Island-centric prize!

IDEAS CITY explores the future of cities around the globe with the belief that arts and culture are essential to the vitality of urban centers, making them better places to live, work, and play. Founded by the New Museum in 2011, IDEAS CITY is a major collaborative initiative between hundreds of arts, education, and community organizations. This year's theme is Untapped Capital, with participants focused on resources that are under-recognized or underutilized in our cities. IDEAS CITY will be May 1 – 4; Staten Island Arts will be participating on May 4th!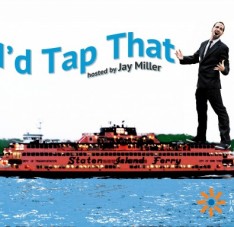 The fourth annual Staten Island Teaching Artist Institute will focus on those who already have some teaching experience, or who have attended SITAI in past years. The curriculum will include the Universal Design for Learning, advanced guidance on creating lesson plans, and more. Participants will learn from Susan Fenley and Jeannine Otis from Sundog Theatre, and Dr. Jerry James from The Center for Arts Education, as well as guest instructors.

This year, SI TAI will be held on Tuesday evenings from 6:30-8:30pm on April 23rd, April 30th, and May 7th. For the first time, local teaching artists have the option of attending one, two, or all three of the sessions.

Carolyn Clark, Executive Director of the Staten Island Philharmonic and past SI TAI graduate, summarizes the experience this way: "I knew music backwards and forwards, but had no training in educational theory. SI TAI gave me the confidence to become a successful teaching artist."

Like an increasing number of prominent Staten Island artists, she has made teaching a major part of her work, bringing her impressive musical expertise to settings including the Hungerford School, Port Richmond High School, and the CCCS Senior Center.

Staten Island Arts, SundogTheatre, and The Center for Arts Education work in partnership to provide this training.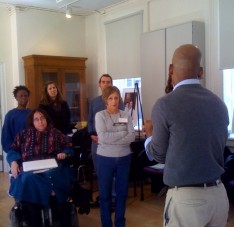 The Noble Maritime Collection, Snug Harbor, Staten Island
1000 Richmond Terrace, Building D
R Train to Ferry, the S40 bus to Snug Harbor
Staten Island Arts is proud to be working in partnership the Brooklyn Arts Council (BAC) as we present Hands Across the Harbor as part of their Harborlore Festival: Where the River Meets the Sea in Brooklyn's Folk Imagination. On Saturday, May 25 between 2-4pm, Hands Across the Harbor will feature performances and interactive learning with artists from Brooklyn and Staten Island at the Noble Maritime Collection at the Snug Harbor Cultural Center. John Noble's life work was dedicated to creating "a rounded picture" of the "American maritime endeavor of modern times." Noble recognized that this picture was fully formed by "immigrants" and "the sons of immigrants." We hope this program will continue to round out his portrait by cultivating Staten Island's relationship to the water through the lens of diverse local resources and knowledge of our port community and new immigrant communities. Staten Island artists include Gayle Heyward singing African American spirituals, Bob Wright singing Staten Island harbortown songs, Seetha Wickramasuriya performing Sri Lankan kavi poems, Eva Yawo telling Liberian tales about fish, National Women's Dance Troupe of Sri Lanka performing a narrative water dance and others. Brooklyn artists include Gurdeep Kaur singing Punjabi songs about water-drinking etiquette, Hafida Torres telling Moroccan tales, Vongku Pak bringing Korean water songs and more. Plus, you'll hear real-life stories drawn from the working waterfront in a story circle with Lenny Speregen, Brian Deforest, Samir Farag, and other pilots, divers, dry dock workers and salt extractors. Come early at 1:30pm and enjoy a brief tour of the Noble Maritime Collection with Nick Dowen.
THIS EVENT IS PRESENTED AS PART OF:
Harborlore Festival
Where the River Meets the Sea in Brooklyn's Folk Imagination
Dance, Music and Storytelling
May 10 – June 15, 2013
It's no secret that Brooklyn is surrounded by over 50 miles of water from Greenpoint to Canarsie, and is also home to thousands of immigrants hailing from coastal locales across the globe—Jamaica, Bangladesh, Italy, Guyana, Egypt—where water is omnipresent. These immigrants, especially the artists among them, have brought cultural traditions to Brooklyn that capture the beauty, meaning and vulnerability of living at water's edge. For Harborlore Festival, BAC presents a series of free concerts, panel discussions and performing arts events exploring the role of water in the artistic traditions of Brooklyn's diverse immigrant and diaspora communities. In post-Sandy New York, Harborlore Festival signals the importance of learning new respect and reverence for the power of water.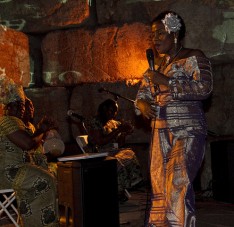 11:00am-1:00pm – Neighborhood visits with lunch
1:00pm – 6:00pm – Forum at El Museo del Barrio
6:00pm – 7:00pm – Celebration

NOCD-NY invites you to join them for a citywide forum to develop a vision for NYC that is grounded in the cultural vitality and social networks that make our communities strong. This vision will become the foundation for a shared policy platform to inform our city's leadership transition in the upcoming year.

The forum will draw on two key ideas. First it will honor that, as Wendell Berry wrote, "What we need is here." Every neighborhood has powerful assets to contribute to a resilient and thriving New York City. Second, it will recognize our interdependence, bringing us together to develop collaborative strategies to engage our City's opportunities and inequities.

They will discuss recommendations and action steps for the critical role of arts and culture in four areas:

· creating a solutions-based approach to community health and sustainability
· incubating creativity and supporting innovative uses of urban space
· moving from Sandy relief to sustained strategies for community resilience, engagement and renewal
· furthering equitable development

Register Here.

You can email inquiries to nocdny@gmail.com.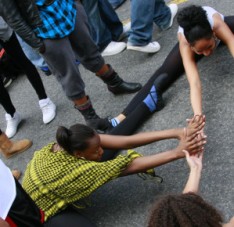 Influenced by jazz and popular music icons, such as Ella Fitzgerald and Billy Joel, Leila and her band (Dan Berry, Joseph Doino, and Nash Kocur) perform original and classic hits such as jazz standard "Stormy Weather" and Beyonce's "Love on Top."
Location: Full Cup; 388 Van Duzer Street, Staten Island, NY 10304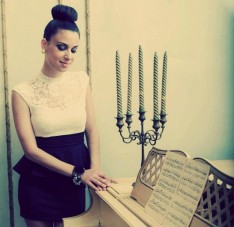 Self-described as "apocalyptic Americana," Carl and his band (Dan Gallagher, Katelyn Merrill, Rachel Somma-Deviln, and Michael Sutton) play modernized arrangements of country and blues standards.

Location: Full Cup; 388 Van Duzer Street, Staten Island, NY 10304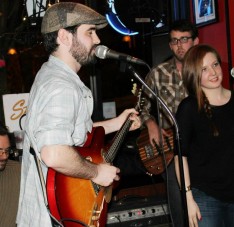 LUMEN is not a traditional film festival or gallery art experience. It is a one-day, 6-hour festival that features video and performance art by emerging artists and more established artists at the forefront of their media. For more info, check out lumenfest.org

LUMEN begins before the sun sets and continues through until midnight. Videos, performances, and installations occur simultaneously and there is no "main stage" or center focus. Instead visitors are invited to safely and organically discover art scattered throughout the industrial site, which is normally off-limits to pedestrians. LUMEN is an outdoor event. Light rain will be handled with tarps, heavy rain will cancel the event. There is no rain date.

LUMEN 2013 will be held at Lyons Pool, a publicly-owned NYC Department of Parks and Recreation site that is named after Joseph H. Lyons. Originally known as Tompkinsville Playground in tribute to the surrounding community and its founder, the remarkable Daniel D. Tompkins (1774-1825), it is located at 6 Victory Blvd (at Murray Hulbert Ave.) Staten Island, NY 10301, about a 25 minute ferry ride from downtown Manhattan. Then you can catch a bus or train or take an 8 minute bike ride or 15 minute walk from the St. George Ferry Terminal in downtown Staten Island.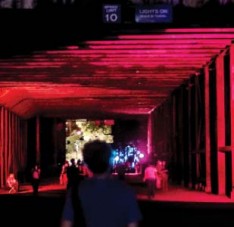 "Under Water," a video project by artist Lisa Dahl, takes inkjet images of foreclosed homes and documents their physical destruction by spraying them with water.

Location: LUMEN; Lyons Pool, 20 Victory Blvd., Staten Island, NY 10301