Connecting Staten Island's Waterfront

Staten Island's waterfront, home to hundreds of artists and arts organizations in the Naturally Occurring Cultural District of St. George, Tompkinsville, and Stapleton, hosts multiple development projects currently underway. This diverse downtown community faces difficult challenges in planning for cohesive, quality public space. (Some of these are documented in this 2014 study completed in partnership with Cornell University's Graduate Planning Studio and the Design Trust for Public Space.)

We believe that arts and cultural activities play an important role in equitable development. As the local arts council, Staten Island Arts supports an array of activities that serve as dynamic drivers for community change.

In 2014 Staten Island Arts applied to an open call by the Design Trust for Public Space to create Future Culture, a project to foster our unique cultural communities and ensure their role in the future character of the North Shore's developing waterfront. Those who work in the creative and cultural sectors are often cited for making a location desirable, and Staten Island Arts wants to make sure the existing cultural and artistic assets are supported during this time of change—and after too!

Design Trust awarded Fellowships to a team of professionals, including Staten Island artist Lisa Dahl, to work with the community in developing and communicating a vision for arts and cultural involvement in the public realm of the rapidly changing waterfront. The Fellows' work, based on intensive local engagement (detailed below), will lead to actionable design, planning, and policy recommendations to share with arts and cultural practitioners, key public officials, and private stakeholders by early 2017. We aim to pilot these recommendations through public art installations—to be chosen through an open call in 2017—for activating public space along the waterfront (see below).

If you're interested in being involved in the project, contact Staten Island Participatory Art Fellow Lisa Dahl at futureculture@designtrust.org or Equitable Public Space Fellow Jourdan Sayers at (212) 695-2432 x7.

It is important to us to give meaningful roles to community members in a number of ways, including:

• An open-house info session on October 26, 2016 from 4-7PM at Staten Island Arts' Culture Lounge to share about the project.

• "Office hours" with Lisa Dahl by appointment. Office hours are open to anyone who would like to share ideas and learn more about the project. Sign up by emailing Lisa at futureculture@designtrust.org.

• A working group of 17 community members met weekly in November and December to represent the diverse cultural communities of the North Shore.

• Meetings with public and private stakeholders.

• Presentations or activities at community events — invite us at futureculture@designtrust.org!

On March 28, 2017, we unveiled a preliminary set of design and policy recommendations outlining strategies to realize a more more livable and connected North Shore. This meeting kicked off the first of a series of stakeholder feedback sessions to be held this spring.

For more information about the Future Culture project team and deliverables, see Design Trust's website.
—-
FUTURE CULTURE
Request for Qualifications (RFQ) for Creative Placemaking projects in Staten Island

On Monday April 17, Staten Island Arts issued an RFQ for two separate Pilot Projects that will connect places and people using arts and culture along Staten Island's waterfront and the North Shore neighborhoods, including St. George, Tompkinsville and Stapleton. This RFQ seeks qualified proposers for creative placemaking projects that give a prominent role to local artists and/or communities, enhance livability in the community, and test recommendations established by Future Culture: Connecting Staten Island's Waterfront, a joint project by Design Trust for Public Space and Staten Island Arts.

Projects can range from built installations, ephemeral interventions, applications to vertical surfaces, reinvention of infrastructure (such as under- and overpasses, jersey barriers, and/or fencing) or performance/program activities that use culture to achieve the goals. The definition of 'culture' in this context is a far-reaching definition including visual arts, performance, music, food, heritage-based arts, ecology, etc.

This Future Culture Call for Pilot Projects follows a rigorous community engagement process and seeks a qualified proposer to submit qualifications and a proposal for artistic projects that demonstrate how new development can partner with the area's rich culture to foster livable and vibrant public spaces. These projects will be in place for up to a year or less. Selected artists/cultural organizations will be required to participate in pre- and post-evaluation of the Pilot Projects by working with the Future Culture team to develop tools to measure their project's impact. This Call requests all applicants to identify ONE (1) OR MORE recommendation(s) within the Future Culture Objectives that they envision their project advancing.

We highly encourage you to read the FULL RECOMMENDATIONS PDF: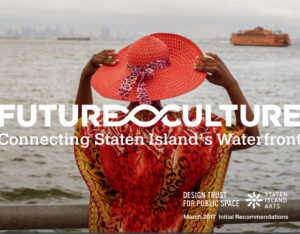 The Pilot Projects challenge public and private stakeholders to devise creative solutions to community needs. Through these temporary pilots, we will document and analyze how catalytic placemaking and placekeeping projects can help strengthen the relationships between the cultural sector and the owners and stewards of property.

Artist Fee $15,000
Implementation $30,000-$45,000

This RFQ does not require you to submit a full budget at the time of application. We do ask you to provide a general description of how the $30,000-$45,000 implementation budget will be used. Outline the major project expenses aside from artist fees (i.e. fabrication, permits, materials, equipment rental, contractual services, etc.). Projects should be designed to be scaled to $30,000 in the event that the full budget is not awarded. If your project will exceed the implementation budget, please indicate how you plan to address the gap in funding. Staten Island Arts and the Design Trust for Public Space will not be responsible for providing funding exceeding $45,000 per pilot project.

All RFQ submissions are due online by 11:59pm Friday, May 12, 2017. No hardcopies will be accepted.

FULL RFQ GUIDELINES: https://statenislandarts.org/wp-content/uploads/2017/04/Future-Culture-Pilot-Call_FINAL_4.17.16.pdf

APPLY NOW: http://bit.ly/ApplyFC

Questions? Concerns? Please contact Special Projects Manager, Diane Velletri at dvelletri@statenislandarts.org.